Specifications
Packaging Testing Equipment
1.Up to TAPPI-T804, ASTM-D64
2.Box compression tester
3.Computer servo control system

Box Packaging Testing Equipment
Company Services:
All Haida employees adhere to the " Quality comes from precision, quality creates the future " business philosophy, serve each client actively and conscientiously in order to satisfy Haida equipment brand consumers' needs.
The usage:
Box Packaging Testing Equipment is used for measuring the pressure strength of cartons, containers, etc. for inspecting the pressure-resistance and strike-endurance of packing materials during transportation or carry. It's equipped with 4 precise Load Cells for detection. The testing results are displayed by computer.
Feature:
Box Packaging Testing Equipment
Using a single-screen operation; do not need to switch the screen;
With three languages in Simplified Chinese, Traditional Chinese and English, the software interface can be switched easily;
Adopting windows platform, and all the parameter settings can be processed in the dialog box, and it operates easily;
The pattern of Test reports can be self-designated; test data can be displayed directly in the main screen;
Choosing translational, comparative mode at the same time to make a number of curve data comparison;
With a variety of measurement units, Measure In Imperial & Metric are switchable;
With self-return & auto-correction function;
With automatic magnification function, in order to achieve the most appropriate size of the graphics;
With the user-defined Test methods; with experimental data analysis function;
It can do test of compression, bending, pressure holding & fatigue.
With high precision and accuracy and reasonable price, it can test the crush instantaneously and stop automatically.
Specifications:
Box Packaging Testing Equipment

Model

HD-A505S-1200

Unit (switchable)

Kg, Lb, N

Capacity (optional)

2 T

Load Resolution

1/100,000

Stroke (exclude the grips)

400 mm

Load Accuracy

≤0.5%

Test Space (L×W×H)

1000×1200×1200mm

Speed of Compression

10 ± 3 mm/min

Operation Mode

PC

Report Items

Serial number, Peak value, Average value, Designated holding pressure value; all memorable

Structure

AC Frequency Conversion Motor ( Taiwan);
Ordinary screw rod ;4 sensors; LED display

Dimension (L×W×H)

2370×1500×2100mm (can be custom made)

Power

1ø, 220v/ 50Hz

Weight

Approx. 850kg

Safety Devices

Overload protection, overvoltage protection & limited position protection device

Standard

TAPPI-T804, JIS-20212, GB4857.3.4, ASTM-D642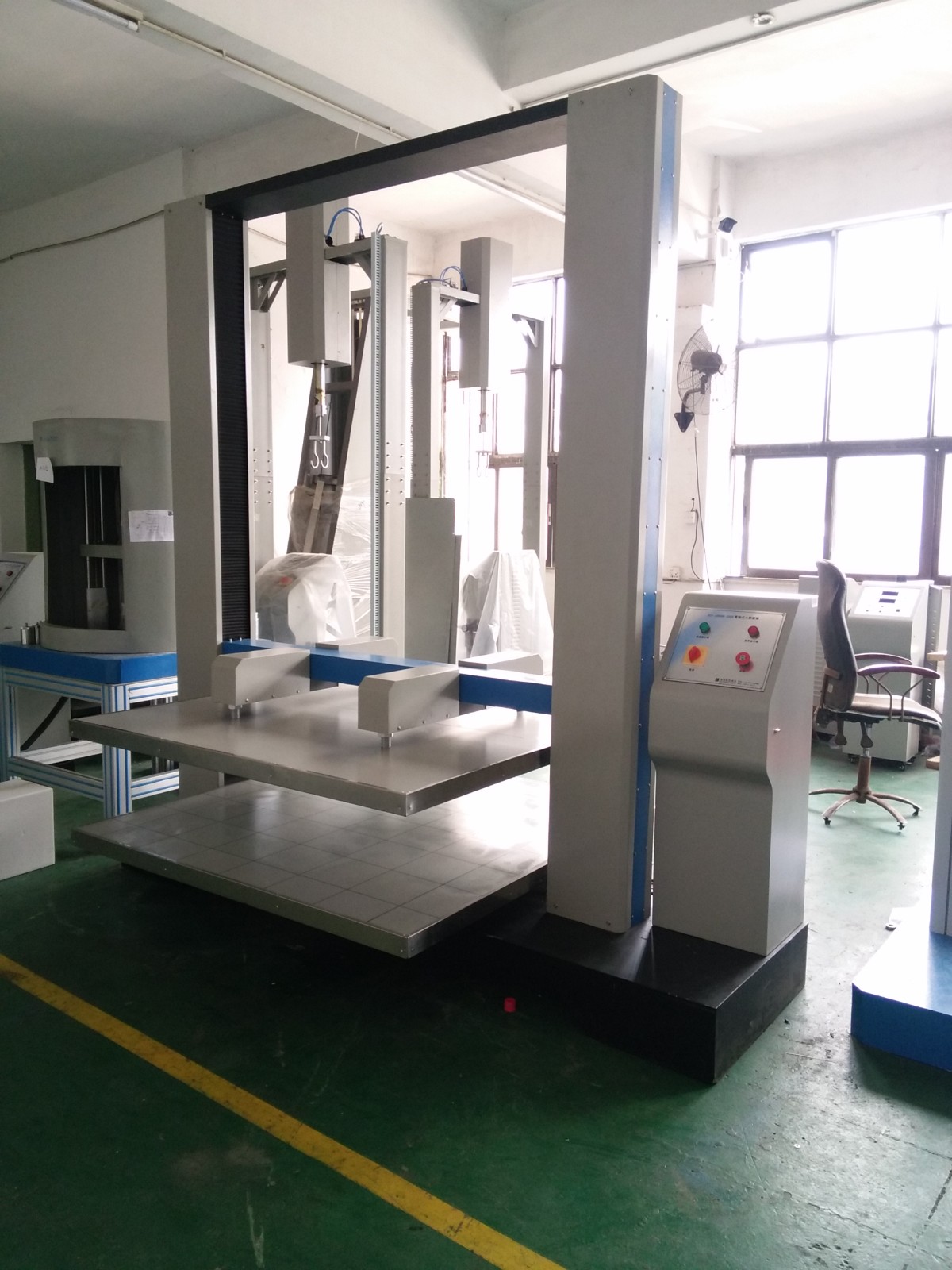 The introduction of Haida
Haida products are widely used in paper products, packaging, ink printing, adhesive tapes, bags, footwear, leather products, environment, toys, baby products, hardware, electronic products, plastic products, rubber products and other industries, and are applicable to all scientific research units, quality inspection institutions and academic fields. Our products meet UL, ASTM, JIS, GB,SO, TAPPI, EN, DIN, BS and other domestic and international standards.