Baby wheels wear tester
Purpose:
This machine is suitable for small wheel abrasion test, such as luggage, skates, baby carriage, trolley wheels. Can be measured wheel wear resistance and the overall structure for wear and deformation, the test results are available as a reference for improvement.
According to the standard
This instrument reference standard: QB / T 2917-2007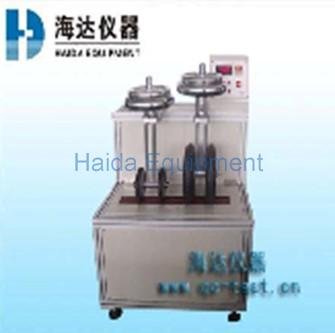 Instrument Specifications
| | |
| --- | --- |
| item | Specification |
| Test speed | 1~ 5km/hr adjustable, LED display |
| Time setting | 9999 minutes |
| Load | 10kg,15kg,20kg,25kg,30kg,35kg |
| Weight (about) | about 95kg |
Maintenance procedures
Cleaning: Always keeping the machine clean before and after each use, wipe the cotton machine application to keep clean.
Rust: Weekly on the surface of the metal parts of the machine once rust oil spray (two hours after injection wipe).
Lubricants: Monthly regularly machine transmission parts (such as screws) filling lubrication (you can use an ordinary lubricants).
Maintenance: Periodically check the control panel buttons correctly.