Digital type cardboard Puncture Testing Machine is the dedicated equipment for corrugated cardboard.
Digital type cardboard Puncture Testing Machine's parameter conforms to the related regulation. It has the characteristics of swift compaction, handle resetting automatically and safety protection, the testing result is high precise and reliable. Digital type cardboard Puncture Testing Machine is the necessary equipment for the paper-making factory, research and quality supervision department.
Specifications
Paperboard Puncture Strength Tester
1. technology, LCD display
2.functions of test data processing and printout
3.puncture te
Main features:
(1) Computer-controlled technology, open structure, high automation procedures, simple and convenient operation, safe and reliable.
(2) Automatic measurement, intelligent judgement, real time display of clamping pressure for sample by operation system.
(3) Automatically measure, count, print the test results, and data can be stored.
(4) Micro-high-speed thermal printer, high-speed print, low noise, no need for ink and ribbons, and it is easy to use and has low failure rate.
(5) Modern design concept of electro-mechanical integration, it has compact structure, elegant appearance and convenient maintenance.
The picture of the Machine: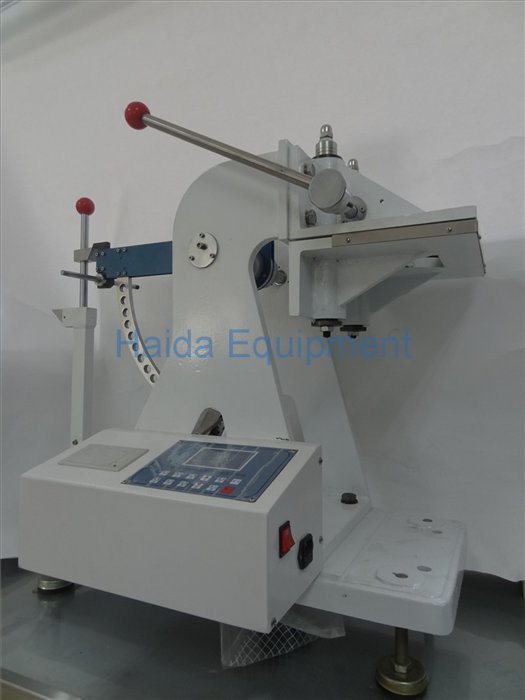 The main technical parameters:
| | |
| --- | --- |
| Measuring Range | (1~48)J |
| Indication Error | Ruler A: ±0.05J; Ruler B: ±0.1J; Ruler C: ±0.2J; Ruler D: ±0.5J (within the limit range 20%~80% at each measurement) |
| Pointer Friction | <0.25J |
| Pendulum Shaft Friction and Air Resistance | >120 times ( Measured by the swing frequency of arm swing) |
| Triangular Pyramid | Side Length: 60×60×60 mm; Height: 25±0.7 mm; edge fillet Radius: 1.5±0.1 mm |
| Outside Dimension (L×W×H) | 800×500×750 mm |
| Work Environment | Temperature: 5~35°C; Relative Humidity: ≤85% |
| Power | AC220V±10%, 2A, 50Hz |
| Weight | Appro. 140Kg |