Uneven Road Stroller Test Equipment
Usage:
Uneven Road Stroller Test Equipment can be used for toys and baby carrier manufacturer , this Road Stroller Test Equipment simulation stroller walk on road conditions adverse road , the wheels do reciprocating after impact , the wheel will deformation or damage , to help manufacturers improve product quality.

Standard:EN1888 , GB14748

Technical parameters:
Test station:

2 stroller in conveyor

Conveyor speed:

5km/h ±0.5km/h

Effective width:

Max.1000mm

Test count:

0-999,999

Bearing load Max.:

Max. 100KG

Aluminums block high:

Base on the EN-1888 standard/ Customer specified)

Emergency stop buttons:

4

Safty device:

Non contact infrared probe

Motor:

Panisonic Servo Motor

Test Machine:

Based On EN 1888 Clause 5.10

Test Method:

Based On EN 1888 Clause 8.10.3

EN 1888 clause 8.10.3 requirements as below

Test Cycle

72 000 cycles in the irregular surface

Test Speed

5 km/h ± 0,1 km/h.

Test Mass

Test Mass A / B
Application:
Every day children are hurt when interacting with products in their daily environments, even with products made especially for children, such as the baby strollers, baby carrie, baby toys, baby bed etc…

HD-J210 Uneven Road Stroller Test Equipment is designed based on EN 1888 Cluase 8.10.3 requirments, which can help the manufacturer and the testing orginzation to finished the Irregular surface test.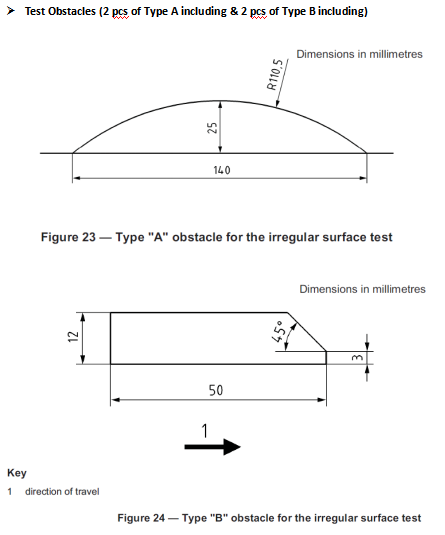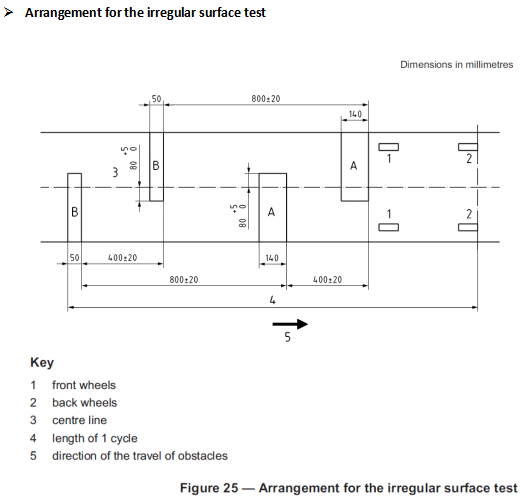 1.8 Obstacle image