Chair Caster Durability Testing Machine


Chair Caster Test Machine Video

Chair Caster Test Machine Brochure
Chair Caster Durability Testing Machine
1 . Chair Caster Durability Tester is used to evaluate the quality and wear life of the caster in chair .
2 . OEM
Bifma × 5 . 1-2011 Section 17 , X5 . 5 Section 18 , X5 . 9 Section 11
Effective stroke 900 mm
Standard loading pad , loading tray * 1 , weight : 113kg
Test speed : 10 CPM
EN 1335, BIFMA X5.1
To evaluate the ability of chair base and casters to withstand fatigue stresses and wear caused by moving the chair back and forth . Seat surface to place the weight ( 113 kg ) , the holding fixture driven by motor and timing belt move to and fro , in order to assess the the casters of wear life , stroke rate and the number of times can be set .
Chair caster durability testing machine is applied to assess the compressive ability of office chair armrest endurancealong the horizontal direction and vertical direction, and the durability of office chair armrest under the action of cyclic ateral pressure (10 degrees angle direction with plumb line ), to determine the compressive strength of office chair armre

driving mode

variable frequency motorand timing belt

Stroke

762mm ( + 50mm )

rate

8 ~ 12 times / min

holder with the up and down adjustment range

80mm~500mm

control mode

PLC and LCD display

Voltage

220V single-phase , 900W

Design standard

Bifma x 5 . 1 clause 17

1 . Starting point for self-regulation .

2 . Accessories : a weight of 23 kg of load-bearing base divided into 9 equal portions per box , placed a 10-kilogram weight , the overall weight equal to 113 kilograms .

3 . Base barriers block can be removed , for smoothing the surface accessibility block test .



A chair with casters is mounted on the moveable platform as shown in Figure 13. A 300-pound load is applied to the chair seat with the chair spindle fully extended. The base is attached to a mechanical device that exerts a horizontal push and pull of from 30 inches to 34 inches as illustrated in the figure. The base and casters are free to rotate and swivel. The machine operates continuously at a rate of 8 to 10 cycles per minute with a maximum speed of 50 feet per minute. One cycle consists of a forward and backward stroke of the mechanical device. Testing continues until the base or a caster suffers structural breakage, loss of serviceability, or a failure that would in any way cause personal injury to the occupant or bystanders, or, the desired acceptance level is met.
Customized models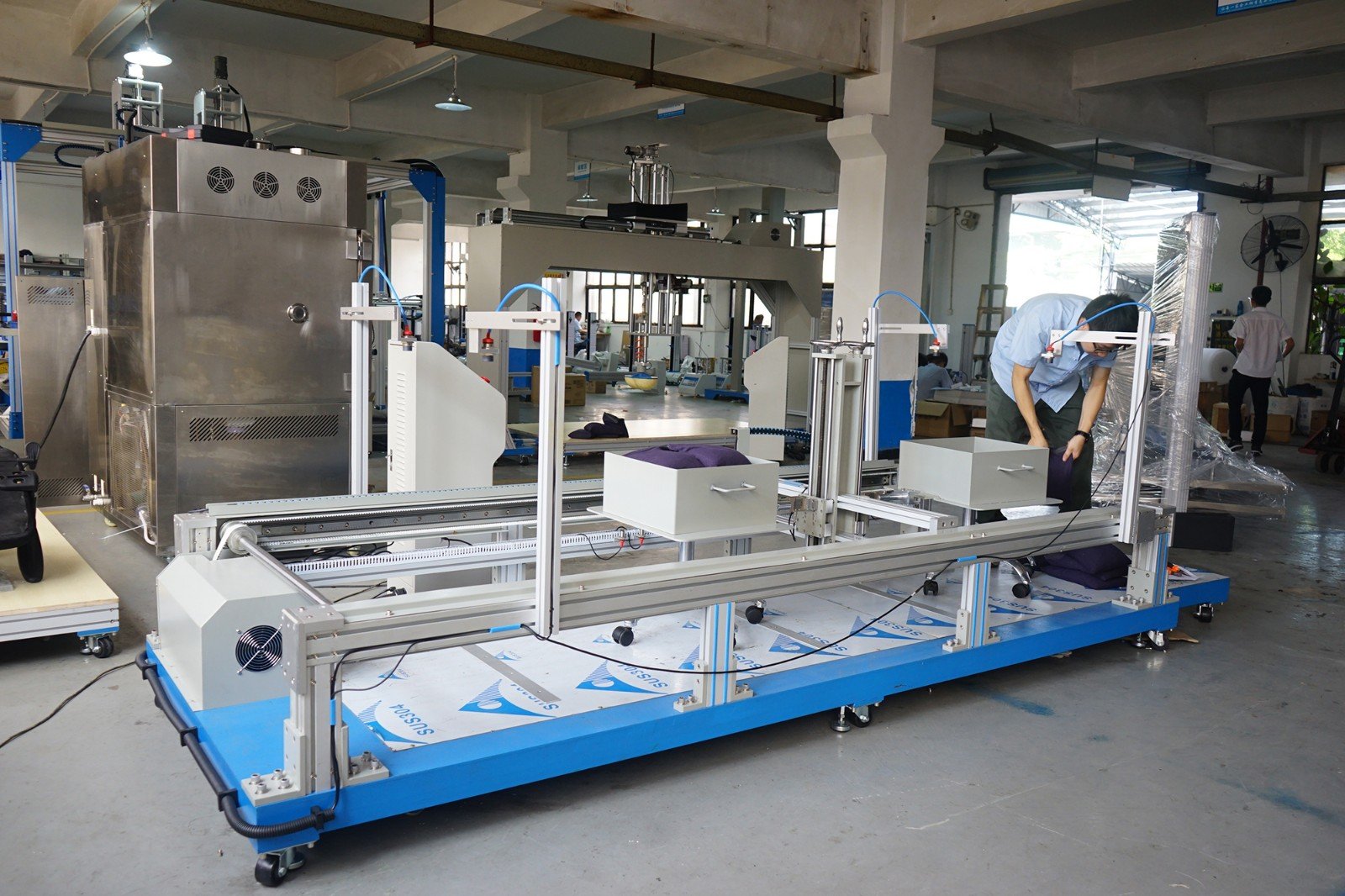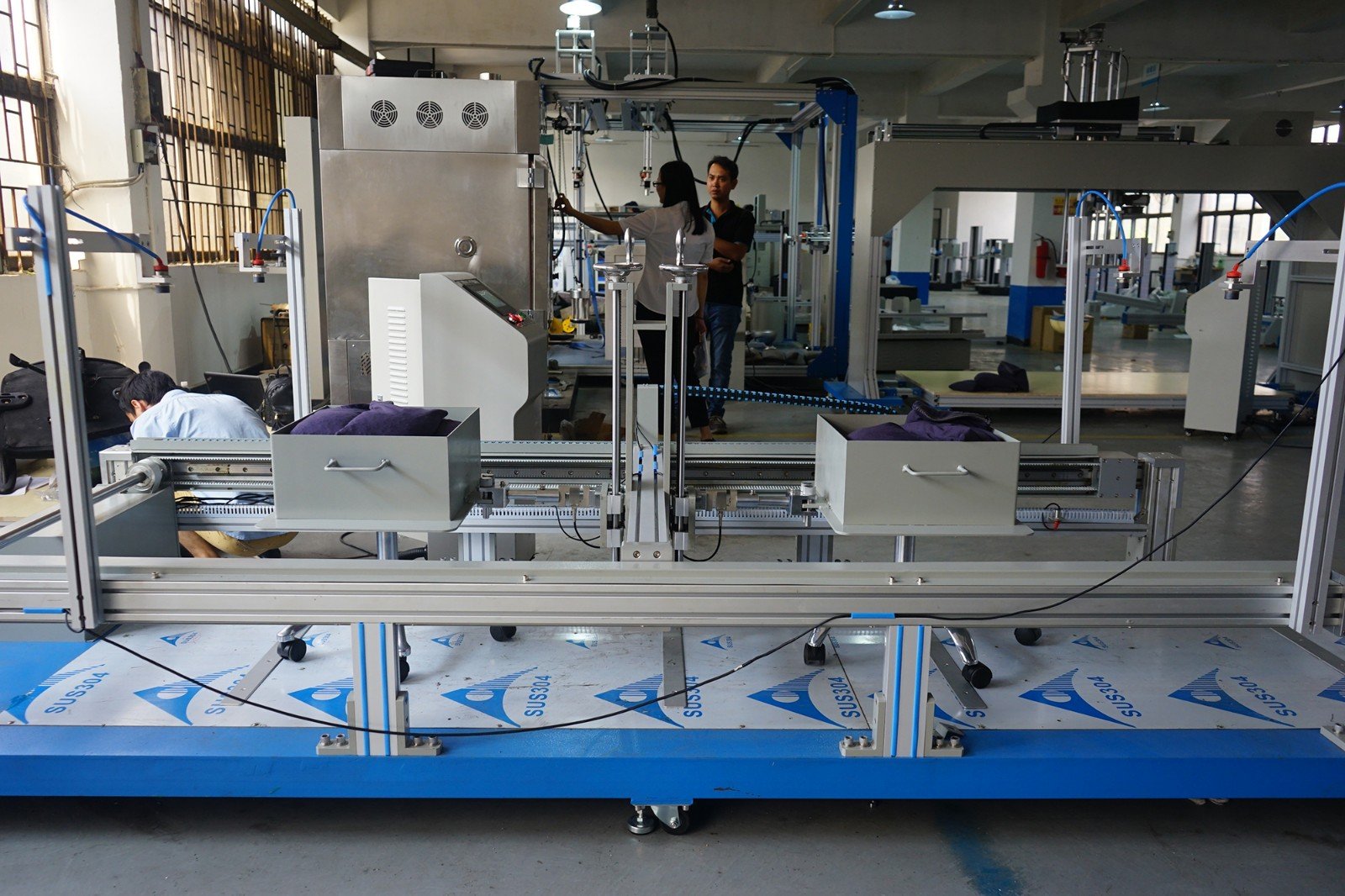 Customer feedback: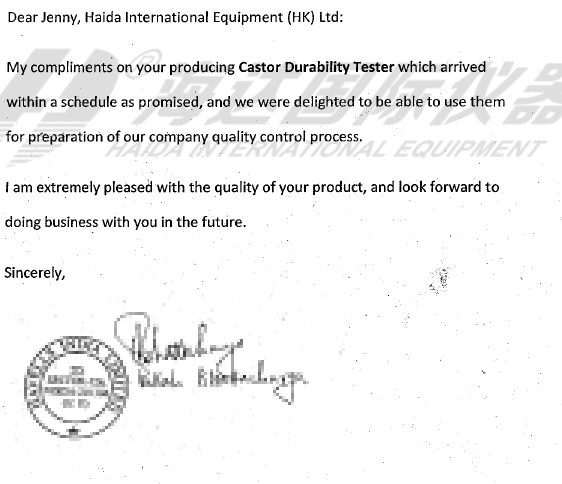 If you face any problems in future during testing process we promise we will give you a reply within 48 hours and solution provide within 3 working days. We can offer operation video and English operation muanual. We can provide video-conference. If customers require on-site service, the transport and travel expense shall be borne by customer.
Simulation Animatronic Customer Triceratops are covered with air bubble film before put them into the wooden case, which not only has good shock absorption, impact resistance, heat sealing and also has the advantages of nontoxic, odorless, moisture corrosion, good transparency etc.