LCD tensile test equipment
---

Tensile Test Equipment Video

Tensile Test Equipment Brochure
Description:
This LCD tensile test equipment can do tensile test, tear test, peel test, bond test with different clamps for paper, tape, film,yarn,fabric,leather and other kind of materials.


This universal test equipment uses the motor to drive screw to move fixtures. Fix sample between upper and lower fixture and pull sample by the upper fixture upward with specified speed. The load cell connecting with upper fixture will sense the force and then convert it into voltage sign to the display screen. Force value will be displayed automatically on the screen.


Applications:
Deformation under defined load: Test deformation under defined load of tested sample

Load under defined deformation: Test load under defined deformation of tested sample

Software can issue report with results for max. force, elongation, tensile strength, peel strength, tear strength, compression strength, etc.

This machine can do different test as per customer requirement such as peel test, tear test, compression test, bend test with different clamps.
Design Standard:
(including but not limited to )
ASTM,JIS,CE, ISO,EN,BS EN,SAE,FTM...etc.
Specification:

Item

Description

Max. Force

200 kg (2KN)

Load cell

Germany brand load cell for high accuracy

Control system

LCD / PC with windows 7 system

Motor

Panasonic servo motor w/AC variable speed drive system, high-precision mechanical ball screw rod

Force reading

kgf, Ibf, N, KN, T etc

Stoke

900mm including fixture

Load cell Resolution

1/250,000

Load Precision

≤0.5%

Test speed

0.1~500mm/min (adjustable)

Software

TM 2101

Curves display

Load- elongation, Elongation-time, Time-elongation, Stress-strain

Data display

Max. force, speed, sample information, strength(Kpa, Mpa, N/mm, N/mm2) etc…

Safety features

E-Stop

Over-load protection

Upper and lower limit switches

Load sensor with automatic retreat



Machine Picture: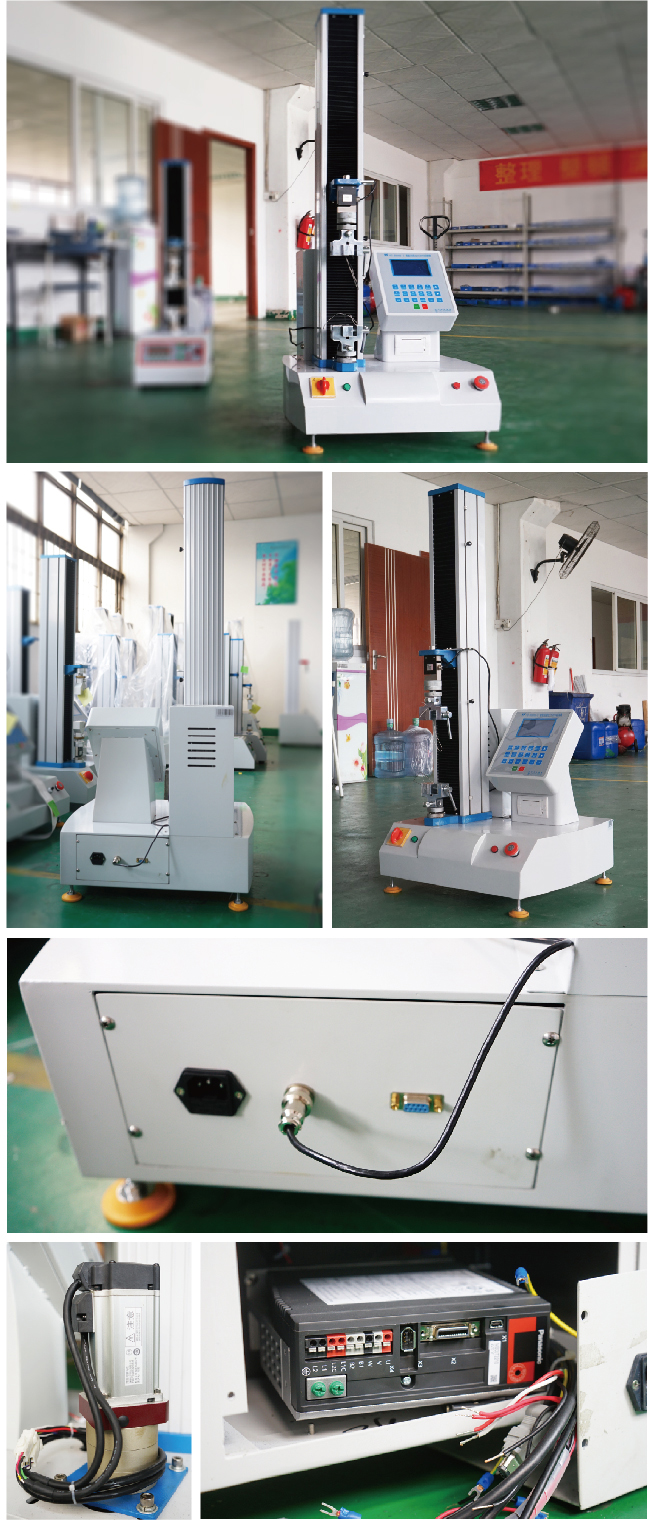 Software
The TM2101 software is designed purposely for computer controlled electronic universal testing machine, used for tension, compress, bend, shear, tearing andpeel test. With the personal computer and interface plate, it could collect, save, process and print test result. Further it can calculate multiple parameters, i.e. maximum force, yield strength, average peel force maximum deformation, yielding point and elastic modulus; this universal test equipment system is featured in curve process, multi-sensor support, image interface, flexible data process and powerful system function.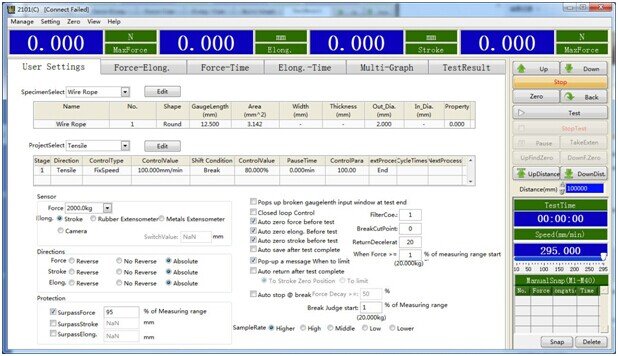 Parts Picture &Fixture:





Lab Room: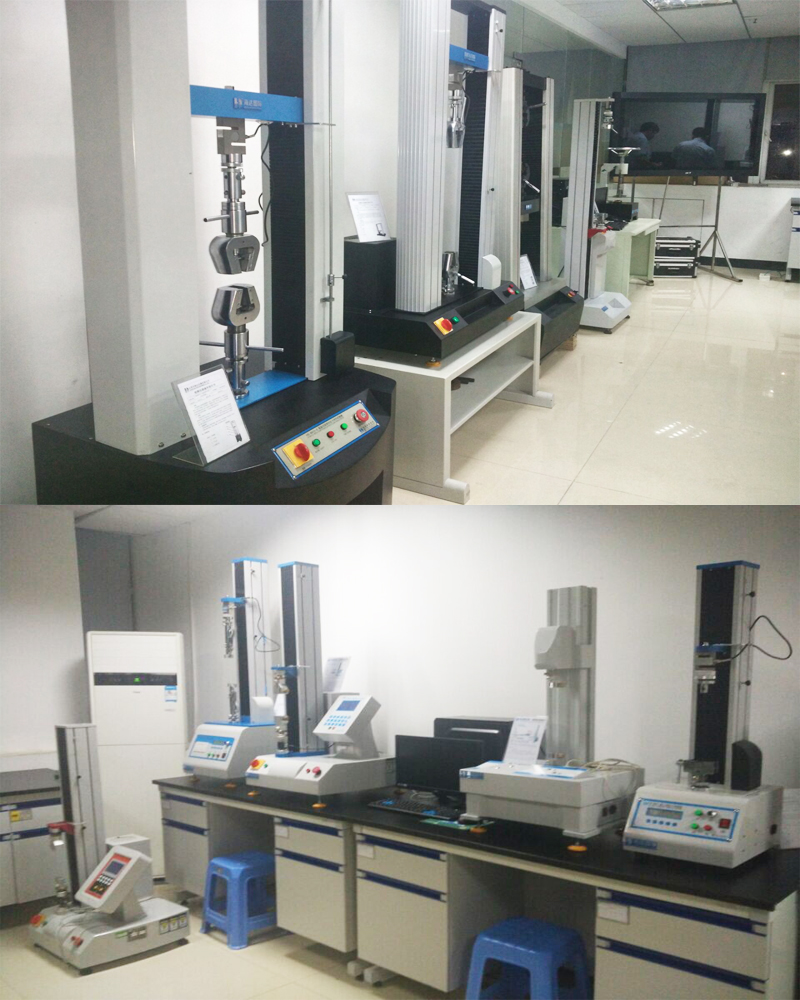 Customer feedback:



Part Of Our Partner Customer: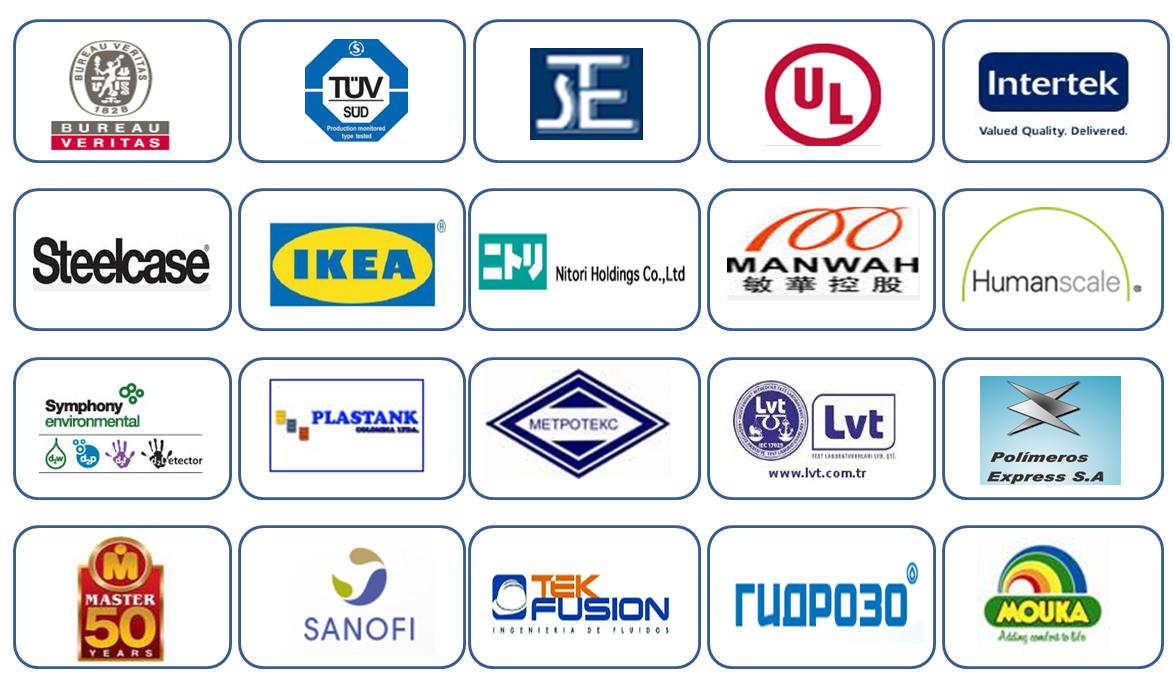 See what company you will work with?
1. Largest TESTING EQUIPMENT manufacturer in China, One of Second Largest TESTING EQUIPMENT manufacturer around the world.
2. Professional Manufacturer of various kinds of testing equipments over 10 years, defect rate is controlled under 0.02%.
3. Completely Production Line. From Raw Material to Delivery, all links are under our control. The quality can be assured.
4. ISO 9001:2008 Quality Management System Certificate.
5. OEM/ODM Service. Just tell us your idea! Our R&D Team is standing by…
6. Our Marketing Investigation Department will send Marketing Research Report to you each season.
7. We are trusted by SCS, INTERTEK, HST, COFCO, ESC, KBMC, LENOVO, PANASONIC, EMC, etc.
8. We accept 100% inspection.
9. Guarantee Period: 365 days, After Sales Service Department provides professional service with you, any questions, just contact us.