Caien Cup
Specifications
Caien Cupis is a viscosity measurement device widely used in the paint industry. 
High quality and reasonable price 
 
HD-C804 Caien Cup
1. Product Description
High quality and reasonable price
Professional design
Great after-sales service, one year warranty
2.Usage
HD-C804 Caien Cup  is a viscosity measurement device widely used in the paint industry. It is commonly a stainless steel cup with a tiny hole drilled in the center of the bottom of the cup. There is also a long handle attached to the sides. There are five cup specifications, labeled Zahn cup #x, where x is the number from one through five. Use large number cup sizes when viscosity is high, use low number cup sizes when viscosity is low.
To determine the viscosity of a liquid, the cup is dipped and completely filled with the substance. After lifting the cup out of the substance the user measures the time until the liquid streaming out of it breaks up, this is the corresponding "efflux time".
On paint standard specifications, one denotes viscosity in this manner: efflux time, Zahn cup number.
Conversion
On can convert efflux time to kinematic viscosity by using an equation for each cup specification number, where t is the efflux time and ν is the kinematic viscosity in centistokes.
Caien Cup #1: ν = 1.1(t - 29)
Caien #2: ν = 3.5(t - 14)
Caien Cup #3: ν = 11.7(t - 7.5)
Caien Cup #4: ν = 14.8(t - 5)
Caien Cup #5: ν = 23t
3.Specifications:
HD-C804 Caien Cup
Model Cup Volume Hole Diameter Viscosity Range Fluid Run Out Time
Zahn1# 44ml Φ1.93mm 5-60cSt 35-80sec
Zahn2# 44ml Φ2.69mm 20-250cSt 20-80sec
Zahn3# 44ml Φ3.86mm 100-800cSt 20-80sec
Zahn4# 44ml Φ4.39mm 200-1200cSt 20-80sec
Zahn5# 44ml Φ5.41mm 400-18000cSt 20-80sec
 4.The pictures
The machine--HD-C804 Caien Cup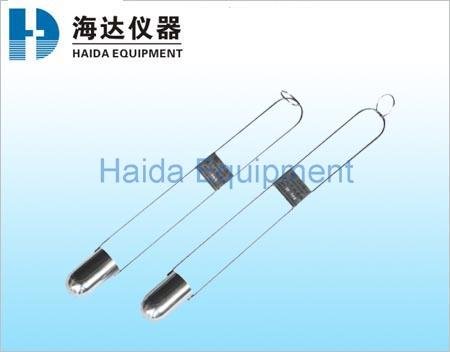 Our company
Introduction:
HAIDA INTERNATIONAL is a professional manufacturer of various kinds of testing equipments over 24 years. HAIDA products are widely used in paper products, packaging, ink printing, adhesive tapes, bags, footwear, leather products, environment, toys, baby products, hardware, electronic products, plastic products, rubber products and other industries, and applicable to all scientific research units, quality inspection institutions and academic fields.
The factory
The lab