Specifications
Color Box Surface Smooth Machine + Color Box Machine:
1.Press Flat and smooth the surface of package box
2.Easy operation

Color Box Surface Smooth Machine
1.The usage:
The color box pressure bubble machine widely used in the shoe, shirt box, underwear box cover box packaging of heaven and earth related enterprise. Industry: food and beverage, involving food, toys, alcohol and tobacco, medicine, gift, handicraft, and other related industries.
2. features:
1, molding bonding speed, forming quality is stable.
2, molding products without air, won't cause to put the user waste.
3, simple structure, convenient operation, general workers can quickly handcuffed production.
4, save manpower, and quick speed, for general manual bonding molding speed several times.
5, this machine can be equipped with a large production assembly line fast, also can be single production itself.
6, can the greatest degree of manual operation and surface of the appearance of the paper box damage.
3.The picture: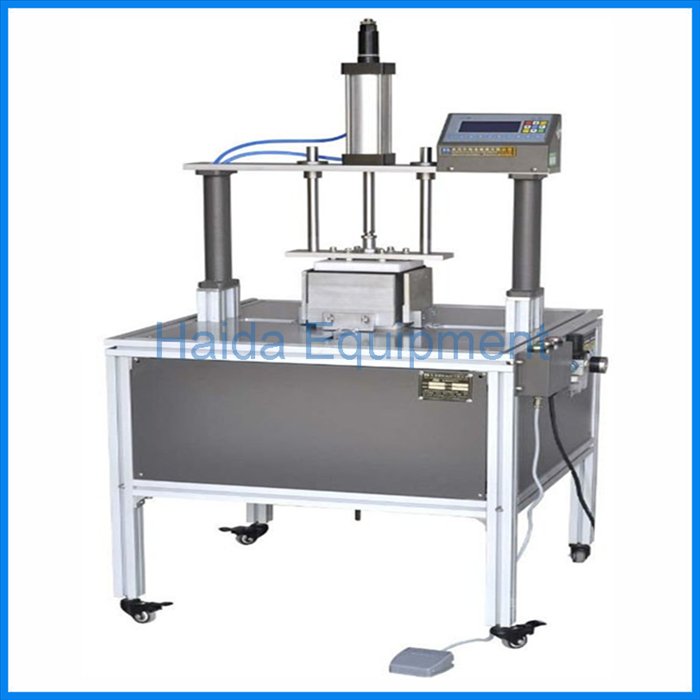 4.Reference:
Color Box Surface Smooth Machine
1.Size: 600 x800x1500mm appearance
2.Weight: 110 kilograms
3.Use the power: 220 V-DC DC
4.Use power: 30 W (air pump power except)
5.Pressure: 4 to 8 Mpa
6.The speed of work: 20-25 times/minutes
7.Pressure: 325 kg on cylinder
8.Side cylinder pressure: 175 kilograms
80 mm diameter: on cylinder
9.Side urn: 32 mm in diameter (dual axle cylinder)
10.Minimal size: 75 x110mm (make minimum x70 30)
11.Maximum size: 300 x450mm
12.The highest size: 150 mm
13.The minimum size: 20 mm
5.The introduction of Haida
Haida products are widely used in paper products, packaging, ink printing, adhesive tapes, bags, footwear, leather products, environment, toys, baby products, hardware, electronic products, plastic products, rubber products and other industries, and are applicable to all scientific research units, quality inspection institutions and academic fields. Our products meet UL, ASTM, JIS, GB,SO, TAPPI, EN, DIN, BS and other domestic and international standards.