Introduction
Purpose:
Falling ball impact testing machine in the test bottles packaged product by the fall of the damage, and to assess its handling during the transportation impact resistance.
Test procedure:
1, the first test specimen can be based on the requirements, through the instrument rear panel height adjustment knob is labeled with the corresponding scale ruler, adjust the height of the sample to be tested;
2, stand on the iron chair, according to the sample need to select the direction of the mouth drops, and then release the specimen;
3, when the test is completed, unscrew the chamber door lock switch and loosen the instrument panel height adjustment knob, remove the sample, the sample was observed by the fall damage after status.
4, in accordance with the above steps can be other product free drop test.
Falling ball impact testing machine Try not to use in the following situations:
1, the vibration, rocking occasions.
2, out of direct sunlight.
3, hot, dusty, humid places.
4, AC power supply of the machine should be well grounded, to ensure safe use.
5, Do not use strong solvents (such as: benzene, nitro oils) washing machine entrapped.
6, the machine must not inject water and debris to prevent damage to electrical components and electric shock.
7, the instrument displays the disassembly and debugging can only be approved by the Ministry of National Metrology units and the company responsible for the other person will be allowed to overhaul.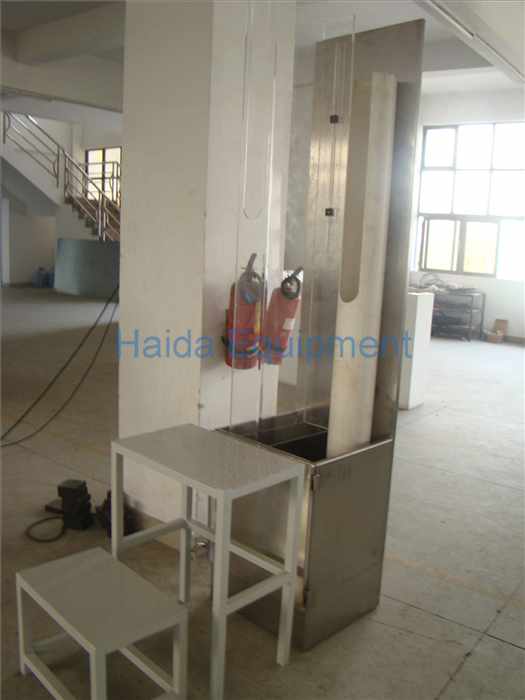 Our company
Introduction:
HAIDA INTERNATIONAL is a professional manufacturer of various kinds of testing equipments over 24 years. HAIDA products are widely used in paper products, packaging, ink printing, adhesive tapes, bags, footwear, leather products, environment, toys, baby products, hardware, electronic products, plastic products, rubber products and other industries, and applicable to all scientific research units, quality inspection institutions and academic fields.
After-service
If you face any problems in future during testing process we promise we will give you a reply within 48 hours and solution provide within 3 working days. We can offer operation video and English operation manual. We can provide video-conference. If customers require on-site service, the transport and travel expense shall be borne by customer;