Portable Colorimeter HD-X003-1
Product Features:
HD-X003-1 is a portable integrating sphere spectrophotometer, and its versatile performance can be used for various practical applications.
★portable, compact, lightweight and stylish body.
★Chinese display operation, high-precision sensors.
★with CM-2600d (Ø8) and CM-2500d compatible data.
★store up to 1700 sets of data.
 Portable Colorimeter HD-X003-1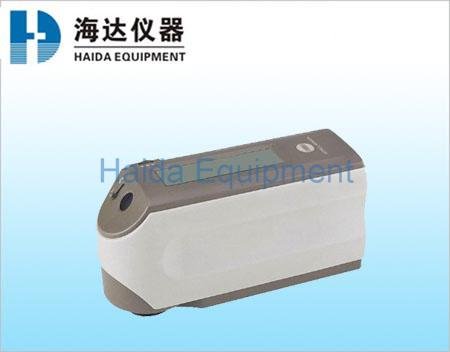 Portable Colorimeter HD-X003-1
Usage: Suitable for plastic / rubber, paint, textile dyeing, printing, leather, automobile and so on. Color quality management software can connect, CCM (computer color matching system).
Portable Colorimeter HD-X003-1
Technical Specifications:
Light / Observing System

d / 8 (light scattering, 8 degree viewing angle) with SCI (specular component included) / SCE (not including specular reflection) synchronous measurement function. (Meet CIE No.15, ISO 7724/1, ASTME1164, DIN5033 Tei17, JIS Z8722 Condition c standards.)

Integrating sphere size

Ø52mm

Sensor

silicon photodiode array (dual 40 elements)

Splitting means

Diffraction grating

Wavelength Range

360nm—740nm

Wavelength spacing

10nm

Spectral half band width

10nm

Reflectance range

0-175%, resolution: 0.01%

Light source

2 pulsed xenon lamp

Measuring time

Approximately 1.5 seconds

Minimum measurement interval

3 seconds (at 23 ℃)

Battery performance

At 10-second intervals of about 1000 times (with alkaline batteries) (at 23 ℃)

Measurement / illumination area

Ø8mm/Ø11mm

Repeatability

Spectral reflectance: Standard deviation less than 0.2% (360 to 380nm: standard deviation of 0.4% or less)

Chromaticity value: Standard deviation within ΔE * ab 0.08 (after correction on the board at 10-second intervals white calibration plate is measured 30 times)

Phase difference

ΔE * ab of 0.4 or less (SCI) (based on 12 BCRA Series ll whiteboard, on average, when compared at 23 ℃was measured by the host body values​​)

Language patterns

English / Chinese

Measurement mode

Single / average (Auto mode: 1-8 times / manual mode)

Port

Meet the RS-232C standard

Observer

2/10 degrees

Observation light source

A, C, D50, D65, F2, F6, F7, F8, F10, F11, F12 (using two light sources can be calculated simultaneously)

display

Spectral values ​​/ charts, color values, color values​​, "pass / fail" decision, the relative gloss

Color space / colorimetric data

L*a*b*,L*C*h,Yxy、XYZ、MI、ΔE*ab、CMC(1:1)、CMC(2:1)、CIE94、CIE DE2000、WI(ASTM E313)、YI(ASTM D1925)

 

Data sets can be stored

1,700 (each data set by a pair of SCI / SCE data members)

Tolerance judgment

Chroma Tolerance

Power supply

AA batteries (X 4), AC adapter

Size

69 (W) X96 (high) X193 (L) mm

Weight

Approximately 670g (including whiteboard / batteries not included)

Operating temperature / humidity range

5 ℃to 40 ℃, relative humidity 80% or less (at 35 ℃), without condensation

Storage temperature / humidity range

0 ℃to 45 ℃, relative humidity 80% or less (at 35 ℃), without condensation

Standard accessories

White Calibration Plate: CM-A145

Ø8mm Target box: CM-A146

RS-232C cable (D-sub9-pin, for IBM, PC / AT): IF-A16

AC Adapter AC-A17

AA (R6) alkaline batteries X 4

Optional accessories

Zero Calibration Box: CM-A32

Hard Carton: CM-A148

Dust Cover Kit: CM-A149

Cover: CM-A152

Color Data Software "SpectraMagic NX": CM-S100W

Printer cable (D-sub9 pin for serial link): CR-A75
Our company
Introduction:
HAIDA INTERNATIONAL is a professional manufacturer of various kinds of testing equipments over 24 years. HAIDA products are widely used in paper products, packaging, ink printing, adhesive tapes, bags, footwear, leather products, environment, toys, baby products, hardware, electronic products, plastic products, rubber products and other industries, and applicable to all scientific research units, quality inspection institutions and academic fields.
company
Our certification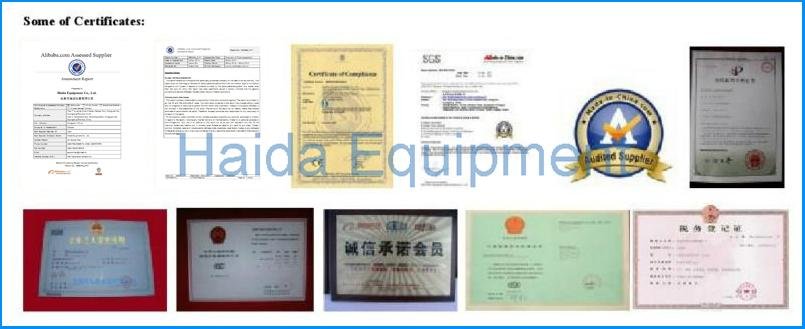 After-service
If you face any problems in future during testing process we promise we will give you a reply within 48 hours and solution provide within 3 working days. We can offer operation video and English operation manual. We can provide video-conference. If customers require on-site service, the transport and travel expense shall be borne by customer;