Specifications of safety shoes impact tester
1,Meet standard of EN, ANSI, BS, CSA
2,Use friendly &easy operation
3,Motorised lift of the striker mechanism
4,Short delivry
Application of safety shoes impact tester 
Through Velcro fatigue tester to achieve Velcro (hook & loop) to repeated stripping and peeling After a certain times .Cut the sample into the wheel to be fitted completely. use tensile machine (another purchase) to measure its peeling strength (AS) and shear strength (PA)
Description of safety shoes impact tester :
 Safety Footwear Impact Testercan be used for a variety of impact (drop) tests with the appropriate anvils and strikers. It is ideal for testing to the safety footwear standards and meets the full requirements of the latest revisions to the standards.
safety shoes impact tester incorporates many new features, including motorised lift of the striker mechanism which moves automatically to a pre-set height and now incorporates a speed sensor that will determine if the correct impact energy has been achieved. It complies with EN, ANSI, BS, CSA regulations. Impacting the the steel toe caps of satety shoes through 100J or 200J power, then observe the sinkage to value its quality. The design is different among EN, ANSI, BS, CSA, so please prescribe the regulation when ordering.
A new slide mechanism ensures minimum frictional losses and it also incorporates a belt drive system to provide the striker drop height position. New guarding provides complete operator safety while giving full access to the anvil area for ease of setting up each test. An anti-bounce device prevents a double impact strike on the footwear under test.
Specification of safety shoes impact tester :
Drop hammer weight

(EN)20±0.2kg, (BS, ANSI) 22.7kg

Falling altitude

(EN)0-1100mm

Impact capability

(EN)200J, (BS, ANSI)100±2J

Impact blade ring

(EN)3±0.1mm R, (ANSI)25.4 D

Horsepower

AC 1/8HP

Volume-mainframe

21.5*19*12.6

Weight

227kg

Power

3∮,AC380V

Design criteria

BS-953, 1870, EN-344, ANSI-Z41
CSA-Z195, ISO8782
Haida products are widely used in paper products, packaging, ink printing, adhesive tapes, bags, footwear, leather products, environment, toys, baby products, hardware, electronic products, plastic products, rubber products and other industries, and are applicable to all scientific research units, quality inspection institutions and academic fields. Our products meet UL, ASTM, JIS, GB,SO, TAPPI, EN, DIN, BS and other domestic and international standards.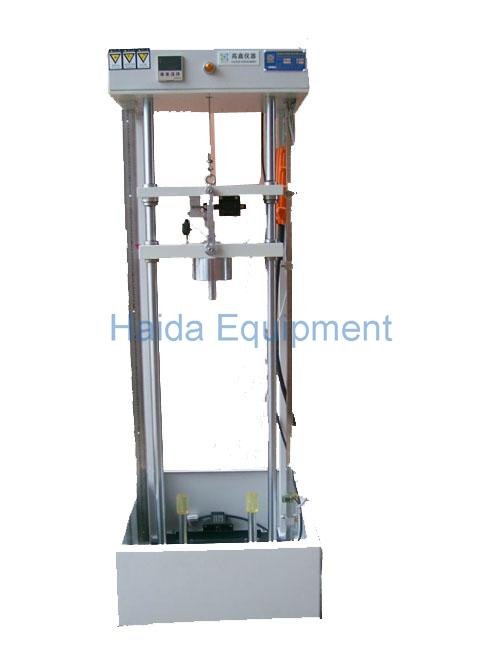 Please feel free to contact us if you need further information for other testing machines.