Salt spray chamber
---

Salt Spray test chamber Video
Salt Spray Test chamber Brochure
Salt Spray Chamber Description:
Salt spray test is an international certification standardization and popular corrosion test method for checking the corrosion resistance of materials and surface coatings.
HAIDA salt spray chamber is the inexpensive, fastest, standard and repeatable ,mainly used to detect salt spray corrosion resistance of the material or material surface coating which often in corrosive environment . The HD salt spray chamber is equipped with an intelligent salt spray test system that enables quick and standardized conversion of test modules. Automatically adjust the test temperature in the workpeace (Salt Spray Method (NSS ACSS) 35 ± 1 ° C, Corrosion-resistant Testing Method (CASS) 50 ± 1 ° C).


Applicable Standards:
ASTM B117, ASTM G85, ASTM D1141-98
DIN EN ISO 9227 (NSS, ESS, CASS)
DIN 50942, DIN 53 167
ASTM B 117-73, ASTM B 287-74, ASTM B 368-68
DIN EN 60068-2-11
BS 1224, BS 2011, BS3900 F4, BS 3900 F12, BS 5466 Part 1, BS 5466 Parts 2+3
NFX 41002
AS 21331 Section 3.1
SIS 1841190
JIS Z 2371
Application Industry:
Salt spray chamber is mainly artificial simulation of corrosion standard environment, used to test long-term corrosive environment in the material or surface coating corrosion resistance.Salt spray test chamber widely used in hardware, electroplating, electronics, chemicals, automotive, aviation, coatings, wire and cable, circuit boards, communications and other industries.
Salt spray chambers features:
Provides USB Host for USB flash drive
Touch-screen operator control interface.
'Easy Open' pneumatically operated canopy.
Dry seal gasket prevents wetting operator's clothes, etc.
Low loading threshold for loading and unloading.
Large capacity floor standing salt solution reservoir.
Calibration certificate.
Canopy color choice.
Set of sample racks.


Experimental space volume:
60L/90L/120L/160L/800L (can be customized)


Salt spray chambers Specification:


Model

HD-E808-90

Internal Size (L×W×H)

900x600x500mm

External Size (L×W×H)

1410x880x1280mm

Equipment Material

Both inside & outside shell adopt P.V.C rigid plastic board

Temperature Range

Room temperature ~ 55℃

Temperature Fluctuations

≤±0.5℃

Temperature Uniformity

≤±2℃

Temperature Precision

±1℃

Spraying method

Continuous and Periodic spray type

Test Chamber Temperature

Salt Spray Method (NSS ACSS)35±1℃
Corrosion-resistant Testing Method (CASS) 50±1℃

Saturated air Barrel Temperature

Salt Spray Method (NSS ACSS)47±1℃
Corrosion-resistant Testing Method (CASS) 63±1℃

Brine Temperature

35℃±1℃

Spray Quantity

1.0~2.0 ml / 80cm2 / hr

PH value

Salt Spray Method (NSS ACSS6.5~7.2)
Corrosion-resistant Testing Method(CASS)3.0~3.2

Lab Volume

270L

Brine Tank Capacity

25L

Multiple Safety Protection Devices

Current discharge protection, over pressure protection, over temperature protection, over load fuse protection

Accessories

Testing Salt/ Measuring tank/Nozzle Equipment x 1 set

Air source

1HP Air pump (provided by buyer)
The table parameters is for the company Standard Model parameters, we support customer customization parameters
Salt spray chambers picture: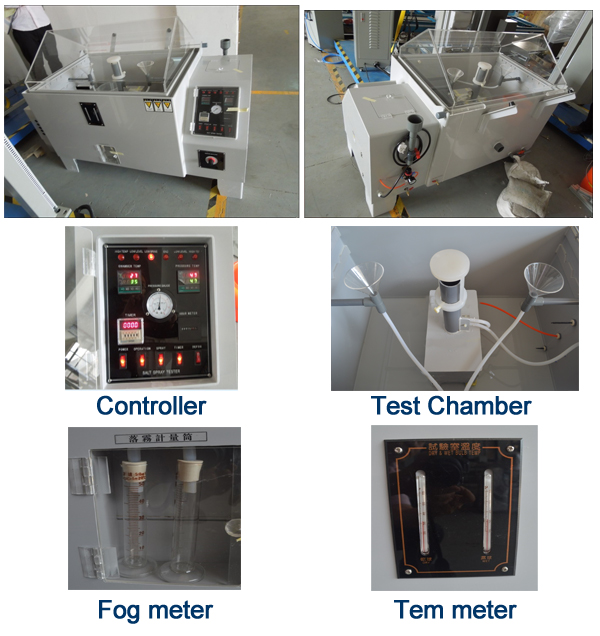 Introduction:
HAIDA INTERNATIONAL is a professional manufacturer of various kinds of testing equipments over 24 years. HAIDA products are widely used in paper products, packaging, ink printing, adhesive tapes, bags, footwear, leather products, environment, toys, baby products, hardware, electronic products, plastic products, rubber products and other industries, and applicable to all scientific research units, quality inspection institutions and academic fields.
1) Factory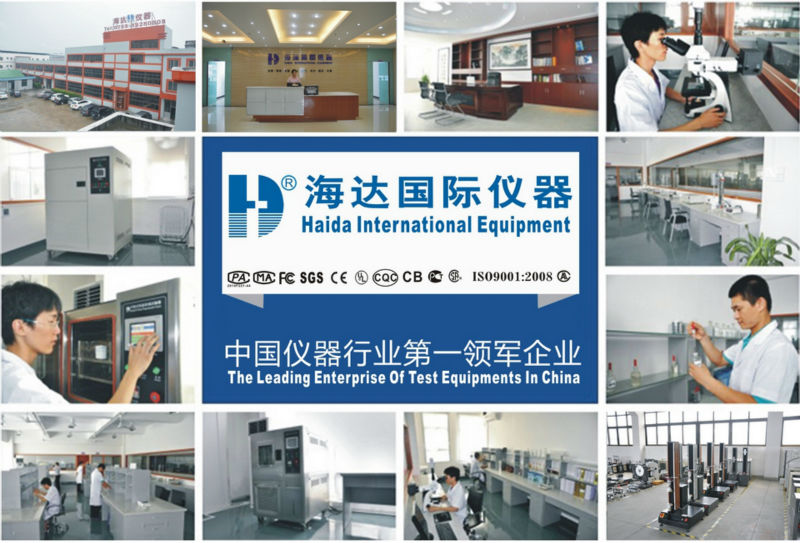 Our Certificate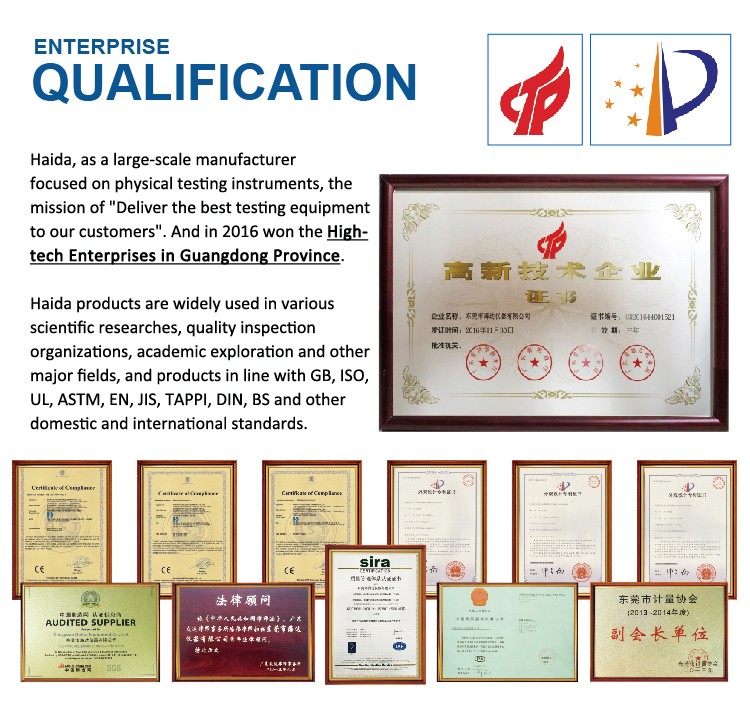 After-service
If you face any problems in future during testing process we promise we will give you a reply within 48 hours and solution provide within 3 working days. We can offer operation video and English operation muanual. We can provide video-conference. If customers require on-site service, the transport and travel expense shall be borne by customer;