Usage:
Tape Initial Adhesion Tester is suitable for testing sensitive adhesive tapeand the product similar to the pressure sensitive adhesive tape products.
Definition:Initial adhesion——Objects and pressure-sensitive adhesive tape with small pressure brief contact between the cohesive surface, the adhesion of adhesive tape that effect onobjects called initial adhesion.
Principle
Inclinedplanet roll ball device: Through steel and pressure-sensitive adhesive tape with small pressure brief touchingbetween the cohesive surface, the adhesion of adhesive tape that effect onsteelto test initial adhesion.
Standard
Reference standard:GB/T4852
Equipment Instruction
Test Equipment:                                                                                                     
Inclinedplaneroll ball device(Picture1)
This device is mainly composed of inclined plate,the device that put the ball, support, base, catching box partsetc. As shown in Picture 1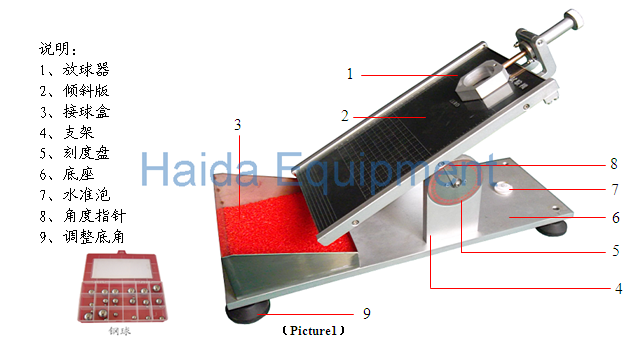 1 . Release ball device  2. Inclined board    3. Catching ball box  4. Support   5.Dial   6.Based     7.Bubble            8. Angle pointer        9. Button corner adjustment                
Instruction:
Inclined board:Covered the 7mm steel plate with 2mm thick glass plate, and form inclined plate. Lining mm coordinate paper, to place the sample, adjust the mark of start and end.

Pull the ball machine:Put ball machine should be able to adjust the starting position of steel ball oninclined plate, the ball should be without any additional forcewhen release the steel ball,
3、Support:The support be used for support the inclined plate, and could adjust the angle of plate in the range of 0~60°.
4、Base:The base should be able to adjust and maintain the device in the level.
5、Catching ball box:Catching ball box be used toreceiving rolling steel ballon the plate, inside with the soft material.
Steel ball
   Made of GCr15 bearing steel the accuracy of it is not lower than "0" level of regulation of GB 308-77 steel ball, it is the 33 kind steel ball which diameter is 1 inch, could be used as test steel ball.
The steel ball is name the ball number according to the 32 times according to the inch diameter. Should use a set of steel ball that it is continuous number
Steel ball should be stored in anti-rust oil. The rust and scars ball should change in time.
Cleaner and wipe the material
3.1Eliminate lotion: lotion can be used appropriate solventsuch as chemical pure acetone, ethyl acetate, ethanol etc.
3.2Wipe the material:Use the soft fabrics such as absorbent gauze wipe as materials. This kind of material shall not contain substances soluble in the solvent.
Specification
| | |
| --- | --- |
| Item | Specification |
| Angle of Inclination | 0-45°(Adjustable) |
| Roll ball | Steel ball |
| The size of roll ball | 1/32"-1" |
| Inclined board | Thickness 5m glass |
| Runway | Length 100mm |
| Weight(about) | About 3kg |
Our company
Introduction:
HAIDA INTERNATIONAL is a professional manufacturer of various kinds of testing equipments over 24 years. HAIDA products are widely used in paper products, packaging, ink printing, adhesive tapes, bags, footwear, leather products, environment, toys, baby products, hardware, electronic products, plastic products, rubber products and other industries, and applicable to all scientific research units, quality inspection institutions and academic fields.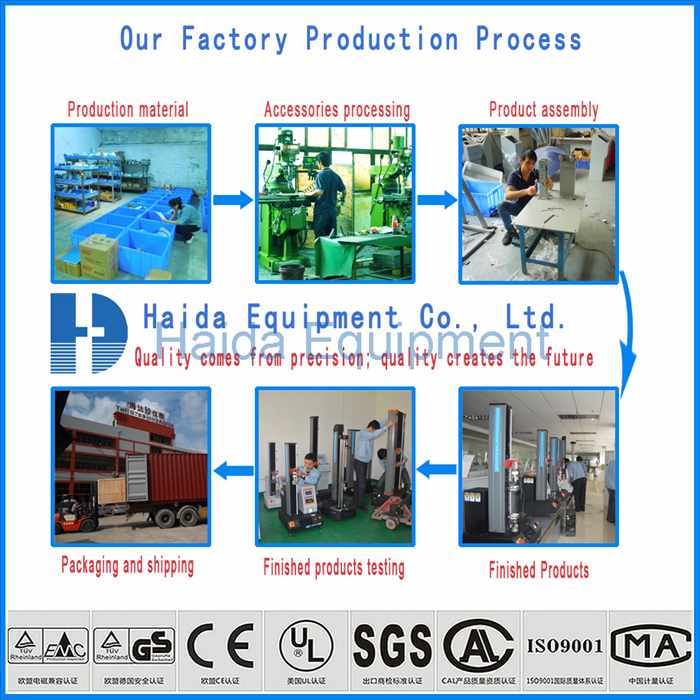 After-service
If you face any problems in future during testing process we promise we will give you a reply within 48 hours and solution provide within 3 working days. We can offer operation video and English operation manual. We can provide video-conference. If customers require on-site service, the transport and travel expense shall be borne by customer;