Specifications
Tear Strength Measuring Machine
1.Design Criteria:TAPPI-T414, JIS-P8116
2. Simple operation, reliable performance and advance

Tear Strength Measuring Machine
The Application
Digital Tear Strength Tester Factory is used for measuring the internal tear degrees of the paper, and the working principle is to tear the specimen to a specified length and check how much force it cost. Normally the test is to use 16 pieces of paper stacking together and then tear them, then get the force accordingly.
The Feature
Digital Tear Strength Tester Factory is of simple operation, reliable performance and advanced technology, and the test data is digitally displayed, test report is made by the printer. It is an ideal and necessary equipment for the scientific research units, paper company, packing industry and the quality inspection department.
The main technical parameters
| | |
| --- | --- |
| Tear Strength Measuring Machine | |
| Capacity | 0~1000mN |
| Vertical distance between gripper and the pendulum fulcrum | 104 mm |
| Outside Dimension (L×W×H) | 50×25×37 mm |
| Weight | 13 kg |
| Design Criteria | TAPPI-T414, JIS-P8116 |
| Intersection angle | 27.5° |
| Gripper depth | 15mm |
| Gripper width | 34mm |
The Picture: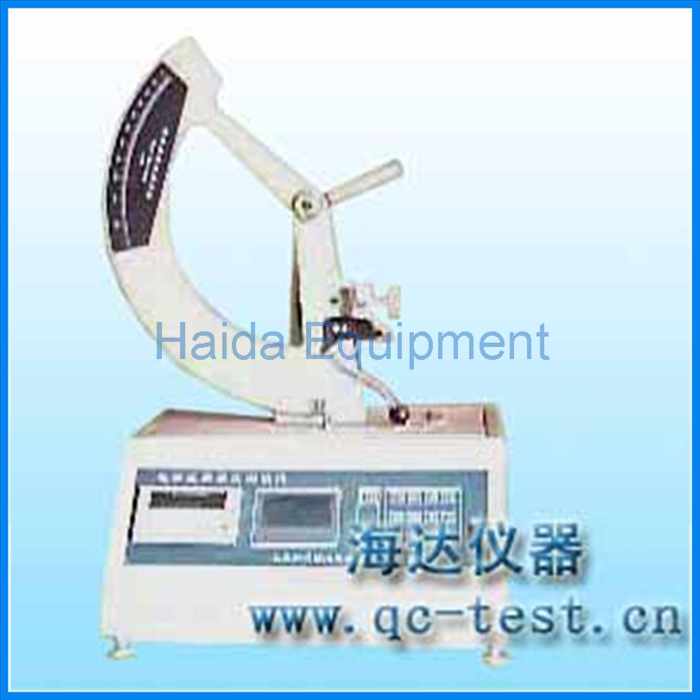 The introduction of Haida
Haida products are widely used in paper products, packaging, ink printing, adhesive tapes, bags, footwear, leather products, environment, toys, baby products, hardware, electronic products, plastic products, rubber products and other industries, and are applicable to all scientific research units, quality inspection institutions and academic fields. Our products meet UL, ASTM, JIS, GB,SO, TAPPI, EN, DIN, BS and other domestic and international standards.