Universal Testing Machine

Universal Test Machine Video

Universal Test Machine Brochure
1. Application
Universal Testing Machine is used to test tension, compression, shearing force, adhesion, peeling force, tear strength,ect of specimen, semi product and finished product in the field of rubber, plastic, metal, nylon,fabric,paper, aviation, packing, architecture, petrochemistry, electric appliance, automobile,...etc. which are the basic facilities for input quality control (I.Q.C), Quality Control (Q.C.), Physical Inspection, Mechanics Research and Material Development.


2. Theory
Universal Testing Machine:
Place the sample between the upper and lower fixture, use a given speed to pull the upper fixture upward, and the upper load cell with sensor to check tensile strength and convert the strength into voltagsign and output to the display screen. And the strength value will be displayed automatically on the computer.


3.APPLICATIONS
1. Deformation under defined load: Test deformation under defined load of tested sample
2. Load under defined deformation: Test load under defined deformation of tested sample
3. Software can issue report with results for max. force, elongation, tensile strength, peel strength, tear strength, compression strength, etc.
4. This machine can do different test as per customer requirement such as peel test, tear test, compression test, bend test with different clamps.
4. Standard
ASTMD903, GB/T16491, GB/T1040, GB/T8808, GB13022, GB/T 2790/2791/2792, CNS-
11888, JIS K6854, PSTC-7.


5. Technical Parameters
Item

Description

Max. Force

200 kg (2KN)

Load cell

Germany brand load cell for high accuracy

Control system

LCD / PC with windows 7 system

Motor

Panasonic servo motor w/AC variable speed drive system, high-precision mechanical ball screw rod

Force reading

kgf, Ibf, N, KN, T etc

Stoke

900mm including fixture

Load cell Resolution

1/250,000

Load Precision

≤0.5%

Test speed

0.1~500mm/min (adjustable)

Software

TM 2101

Curves display

Load- elongation, Elongation-time, Time-elongation, Stress-strain

Data display

Max. force, speed, sample information, strength(Kpa, Mpa, N/mm, N/mm2) etc…

Safety features

E-Stop

Over-load protection

Upper and lower limit switches

Load sensor with automatic retreat

6. Specification of main engine:
A. Motor system: Panasonic servo motor+Panasonic servo driver+ball screw (Taiwan)+Leeming reduction gears+synchronous belt drive
B. Control system:
a. TM2101 computer servo system;
b. Back to origin automatically after the test;
c. Store data automatically or by manual operation.
C. Data transmission: RS232
D. Computer servo system: Desktop computer servo control tensile tester dedicated system
E. Display modes: Windows Interface display
F. Using windows interface to test software it can achieve to set speed, load, power time, Breakpoint proportion, much order control mode and meet different test requirement.
G. Whole displacement: Encoder (2500P/R), ascending 4 times precision
H. Displacement resolution: 0.001mm
I. Safety device: Overload emergency stop device, fluctuation travel limit device, leakage automatic broken electricity system, automatic breakpoint stop function


7. Software:
The TM2101 measurement and control system is designed purposely for microcomputer controlled electronic universal testing machine, microcomputer controlled universal hydraulic testing machine and microcomputer controlled compress testing machine, used for tension, compress, bend, shear, tearing andpeel test. With the personal computer and interface plate, it could collect, save, process and print test result. Further it can calculate multiple parameters, i.e. maximum force, yield strength, average peel force maximum deformation, yielding point and elastic modulus; this system is featured in curve process, multi-sensor support, image interface, flexible data process and powerful system function.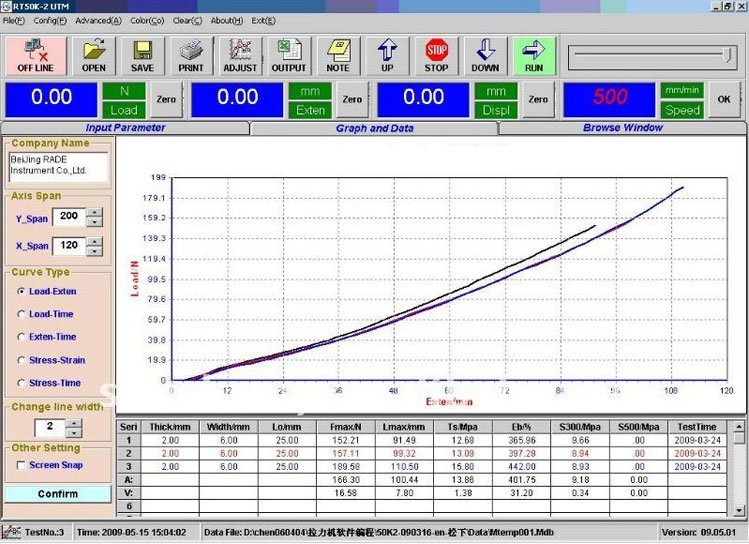 Why choose us?
1. Considerate Service Different countries plugs, manually change the-voltage from 110V to 220V, insurance indicator.
2.Excellent After sale Service:
18 months warranty. Besides, we can help you to repair your problem controller freely, even it's
not from our factory. What you need to do is to send us the controller.
3.Commitment:
We will sign a letter of commitment while we sign the contract, which will improve your confidence to us.
4.Good Packaging:
Simulation Animatronic Customer Triceratops are covered with air bubble film before put them into the wooden case, which not only has good shock absorption, impact resistance, heat sealing and also has the advantages of nontoxic, odorless, moisture corrosion, good transparency etc.
How to Contact Us?
Please Send your inquiry Details in the below for our quotation,Click
"Send"
Now!