Detailed guide for dust test chamber
---
Dust test chamber is the name of "Sand Dust Test chamber", simulating the destructive effect of natural sand,dust and wind climate on products, suitable for testing the shell sealing performance of products, dust test chamber is mainly used for the ip5x and ip6x two grades of test in the standard of shell protection. The Sand Dust Test chamber has the dust vertical circulation air flow, the test uses the dust to circulate, the entire wind tunnel uses the import advanced stainless steel plate manufacture, the duct bottom and the conical hopper connection, fan inlet and outlet directly connected with the air duct, and then in the appropriate position to the top of the studio diffuser access to the studio body, the formation of "O" type closed vertical dust blowing system, so that airflow can flow smoothly, the maximum to disperse the dust evenly. A single high power low noise centrifugal fan is used to adjust wind speed according to the test.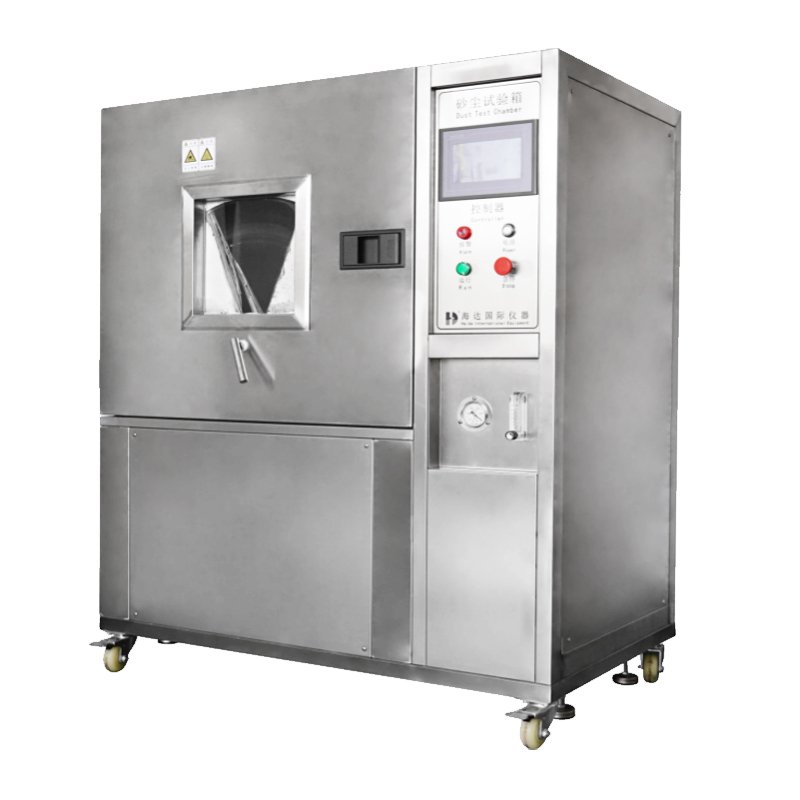 Working principle of dust test chamber
The Dust test chamber is driven by a fan. A certain concentration of dust is blown over the surface of the test specimen at a certain velocity.To test the ability of these test specimens to be exposed to the penetration of dust particles under the action of dry sand or dust-filled atmospheres,The ability to defend the abrasive or blocking effects of grit and the ability to store and operate.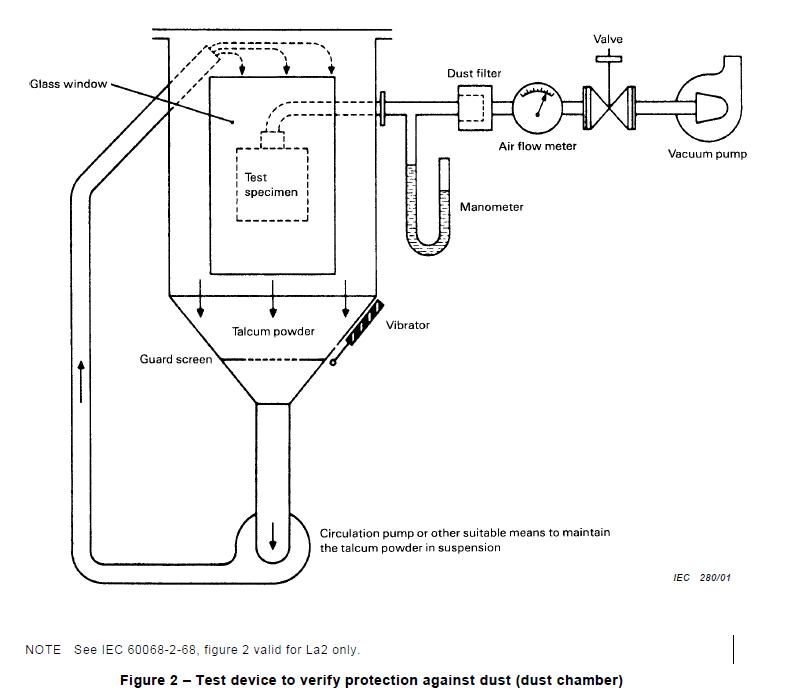 Test object
① cell phone, electrical products and other products in the sand dust environment of the tightness.
② the sealing performance in the use, storage and transportation of the automobile, motorcycle parts, seals and so on in the sand dust environment.
Dust Test Grade
For portable, outdoor and automotive electronics have a dust test requirements, whether in the international IEC, MIL or ETSI and SAE have developed the corresponding test requirements.
iec/en60529 Dustproof is divided into 7 grades (Grade 0 ~ Grade 6), dustproof grade (E. G. ip5x-Dust Grade 5)
Level 0: No dust protection at all
Level 1: Protects against foreign bodies that have a diameter greater than 50 ㎜ fall into the device
Level 2: Protects against foreign bodies that have a diameter greater than 12.5 ㎜ fall into the device
Level 3: Protects against foreign bodies that have a diameter greater than 2.5 ㎜ fall into the device
Level 4: Protects against foreign bodies that have a diameter greater than 1.00 ㎜ fall into the device
Level 5: Can not completely prevent dust entry, but the amount of dust entered must not affect the normal operation of equipment, not to affect safety
Level 6: Completely dustproof
HAIDA EQUIPMENT is a manufacturer of inspection equipment for manufacturing and designing environmental chambers with more than 10 years of experience. Able to provide high quality dust chamber. Affordable prices, professional services, global after-sale technical support. HAIDA Dust Test Specifications:
Standard Features:
Item

Specification

Internal dimension

800W*800D*800Hmm

External dimension

1300W*1000D*1700Hmm

Test sample

Size W20cm- L30cm-D15cm, weight 0.5kg

Chamber material

SUS304 Stainless steel

Specifications of square mesh sieve

Mesh hole 75um, mesh metal wire diameter 50um

Talcum powder amount

2kg/ m³

Airflow speed

No more than 2m/s

Door

Left open door with tempered glass door

Controller

PLC Touch Screen controller, programmable to set as below cycle:

a. Blowing dust time (Stop/Blow) m/s

b. Cycle time: can be adjusted

c. Pre-set test time: 0s ~99m99s

Vacuum system

Pressure gauge, air filter, Pressure regulating FRL, connecting pipe, Vacuum pump

Vacuum pump capacity

60-600 L/H

Fan

Centrifugal fan

Safety protection devices

Meter over-temperature function, Phase shortage protection, Power short-circuit protection
Chamber Design Features:
1, Chamber material: SUS#304 stainless steel;
2, Transparent window is convenient to observe specimen during testing;
3, Blow fan adopts stainless steel shell, high sealing and wing speed, low noise;
4, Inside the shell is the funnel type, vibration cycle can be adjusted, dust free float in the sky falling to blowing the hole together.

Want to know more dust test chamber details,please contact us :"manager@qc-test.com"