Chair Seat Rotating Testing Machine


Chair Seat Rotating Test Machine Video

Chair seat Rotating Test Machine Brochure
Chair Seat Rotating Testing Machine is used to test the durability of the seat swivel of the chair. According to test Standard: BIFMA X5.1-2002, Test No. 8,11
Office Chair Seat Rotating Testing Machine is a two station testing equipment.
According to test Standard: BIFMA X5.1-2002, Test No. 8,11
Applicability: This test applies to all types of the swiveling chairs.
Purpose of Test: to evaluate the ability of a chair to withstand heavy impact forces on the seat.
Office Chair Seat Rotating Testing Machineis designed for dynamic and cyclic durability seat test.
Office Chair Seat Rotating Testing Machine

Mode

HD-F731

Counter

0-999,999, memory, output control

Impact sandbags diameter

16 inch 125 pounds standard sandbbags

Static pressure mould diameter

8 inch, 165 pounds briquetting

Impact speed

10-30 times/minute or specified

Static pressure speed

10-30 times/minute or specified

Cylinder stroke

0-300mm

Rail height

90-135cm

Machine size

270*85*80cm

Power

AC220V, 3A

BIFMA requirements

impact 100000 times+ static pressure 20000 times(left)
+static pressure 20000times (right)
Chair Seat Rotating Testing Machine applies on all kind of office chair which with swivel platform. Used to evaluate the office chair to withstand repeated pressure and wear ability in rotation. It provide two mode of testing:
1. Can set the clockwise and counter-clockwise angle(45°to 355°)
2. 360°rotation single direction
EN 1335 Chair Swivel Test Procedure:
The base of the chair shall be secured on a rotating table with a test surface so that the rotating axis of the chair coincides with the rotating axis of the table. The upper part of the chair shall be loosely fixed in such a way as not to hinder the rotation of the base. Load the seat in loading point A with a mass 60 KG and in loading point with a mass 35KG or any equivalent loading which will result in the same downwards force and bending moment on the chair. The angle of rotation shall be 360° at a rate of (10 ± 5) cycles/minute, 120,000 cycles. Change direction after each rotation.
| | |
| --- | --- |
| Framework | 1 framework with traverse member and base plat 1200mm ×1200 mm , 12mm thick, galvanized steel |
| Rotation test axis | 1 electromotive test axis for the rotation of the turning knob, position-controlled, rotation angle +/- 360° |
| Pneumatic test axis | 1 pneumatic test axis for seat, load controlled, position diameter 80mm, stroke 500mm |
| Load | Load up to 1900N, 2 × Load Cell 2KN. Load is transmitted vertically to the seat with lateral adjusting range |
| Limit Control | Operating pressure and cylinder limit switch control |
| Emergency Button | 1 emergency button |
| Number and Cycles | Can be set by PLC ( 0- 99,999) |
| Accessories (Optional) | 1 load pad diameter 200mm DIN EN 1335 |

Customer feedback: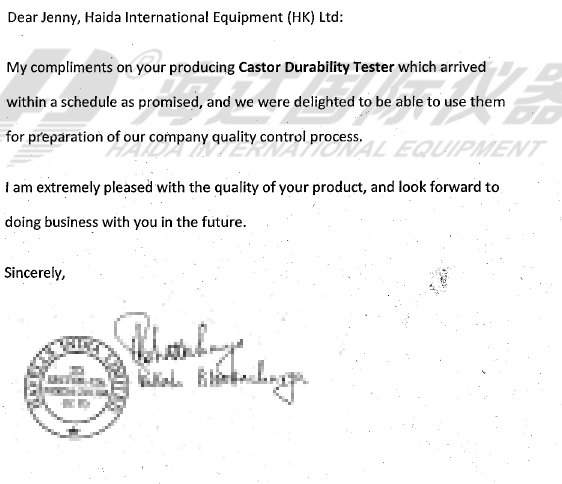 Why choose us?
1. Considerate Service Different countries plugs, manually change the-voltage from 110V to 220V, insurance indicator.
2.Excellent After sale Service:
18 months warranty. Besides, we can help you to repair your problem controller freely, even it's
not from our factory. What you need to do is to send us the controller.
3.Commitment:
We will sign a letter of commitment while we sign the contract, which will improve your confidence to us.
4.Good Packaging:
Simulation Animatronic Customer Triceratops are covered with air bubble film before put them into the wooden case, which not only has good shock absorption, impact resistance, heat sealing and also has the advantages of nontoxic, odorless, moisture corrosion, good transparency etc.

How to Contact Us?
Please Send your inquiry Details in the below for our quotation,Click "cantact us" Now!