Equipment discription:
High sharpness Industrial Projector, also known as projector, industrial projector, used to shape complex stampings, gears, cams, threads and more measured contour model, easy to use, high efficiency, is a commonly used measure of optical instruments.
Applicable industry:
This high sharpness Industrial Projector widely used in major machinery manufacturers including aviation and aerospace industries,watches, electronics industries, instrumentation industry, research institutes and departments at all levels of testing metering stations, metering and so on.
Main feature:
1, modern design, compact structure, easy operation.
2, length, angle measurements of realization.
3, non-spherical condenser illumination, bright field of view, illumination uniformity, image clarity.
4, multi-function digital display systems, instruments with RS232 interface and data processing software.
5, strong heat system, heat dissipation, good performance, more stable.
6, using high brightness, long life lighting.
Technical parameter:
Model

HD-3015

HD-3020

HD-3025

Table

Metal table size(mm)

340 × 152

350×170

450 × 280

Glass table size(mm)

196 × 96

246× 120

306× 196

X coordinate travel (mm)

150

200

250

Y coordinate travel (mm)

50

100

150

Z coordinate travel (mm)

90(Focusing)

100( Focusing )

100( Focusing )

Measuring accuracy (μm)

3+L/50

3+L/75

3+L/75

X, Y Block, Digital Resolution

0.001mm

Projection screen

Size (mm)

Ø312, Terms of Use>Ø300( Engraved with the word line m )

Rotation range

0~360°

Rotation Digital Resolution

1' or 0.01°

Mirror Matter

Magnification

10X( Necessary ) 20X(Option) 50X ( Option ) 100X ( Option )

Line field of view in object (mm)

Ø30 Ø15 Ø6 Ø3

Work in object distance (mm)

77.7 44.3 24.5 25.3

Data Processor

DC-3000 multi-function data processing system, all the Chinese showed they can do more sampling, coordinate rotation, point, line, distance, angle measurement

Instrument lighting

Transmission and reflection of light source are: 24V, 150W halogen lamp

Instrument Power

110V/ 220V(AC), 50/60HZ, Total power 400W

Cooling method

Forced air-cooled (3 axial fans)

Dimensions

L × W × H (mm)

792× 544 × 975

770 × 550× 1120

770 ×550× 1120

Weight

Unit Kg

150

150

150

Options

Micro-printer, optical Edge Detector, M2D software; detailed description see Annex projector.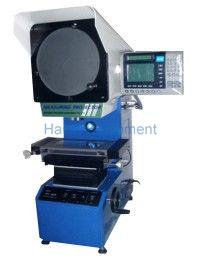 The introduction of Haida
Haida products are widely used in paper products, packaging, ink printing, adhesive tapes, bags, footwear, leather products, environment, toys, baby products, hardware, electronic products, plastic products, rubber products and other industries, and are applicable to all scientific research units, quality inspection institutions and academic fields. Our products meet UL, ASTM, JIS, GB,SO, TAPPI, EN, DIN, BS and other domestic and international standards.