IPX56 waterproof climate chamber





IPX 56 water testing PDF

IPX56 water testing video

Generl Specifications
Packaging Dimensions: (W*D*H) 1600*1400*2000mm x 2
Power supply source: single-phase, 220V±10%, 50/60Hz (can be appointed)
Gross Weight: 560kg

Usage:
IPX67 waterproof climate chamber is mainly suitable for outdoor lighting, outdoor lamps and lanterns, household appliances, communication products, the signal device and the automobile lamps and lanterns and other products to do test protection grade (IP waterproof level test).

Standard
EN60598、IEC60529-2001、GB4208-2008(IPX5、IPX6)


Applications& Features
1. To be used in testing external lighting and signal device and vehicle lamps shell protection.
2. Cyclic test includes conditions: heating, watering
3. The internal chamber has lighting device
4. Rain time, rain interval time and rainfall strength can be adjusted and controlled separately.
Standard Features
Item

Specification

Internal chamber size(W*D*H)

1000*1000*1000mm(can be customized)

External chamber size(W*D*H)

1400*1200*3500mm

IP Code

IPX5

IPX6

Internal diameter of the nozzle

6.3mm

12.5mm

Delivery rate

12.5l/min±5%

100l/min±5%

Core of the substantial stream

Circle of approximately 40mm diameter at 2.5m distance from nozzle

Circle of approximately 120mm diameter at 2.5m distance from nozzle

Chamber material

Internal: SUS304 stainless steel, external: stainless steel

Test duration per square meter of enclosure surface area likely to be sprayed

1 min

Minimum test duration

3 min

Controller

PLC touch screen

Distance from nozzle to enclosure surface

Between 2.5m and 3m

Sample rotatory table

Diameter 500mm, rotation speed adjustable

Power

AC380V, 50Hz, three phase


view: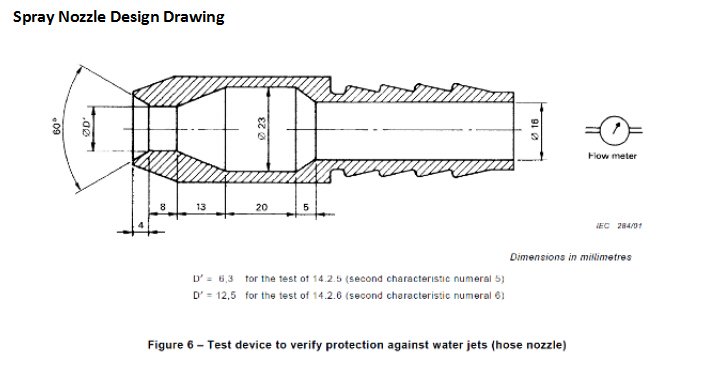 Customer feedback: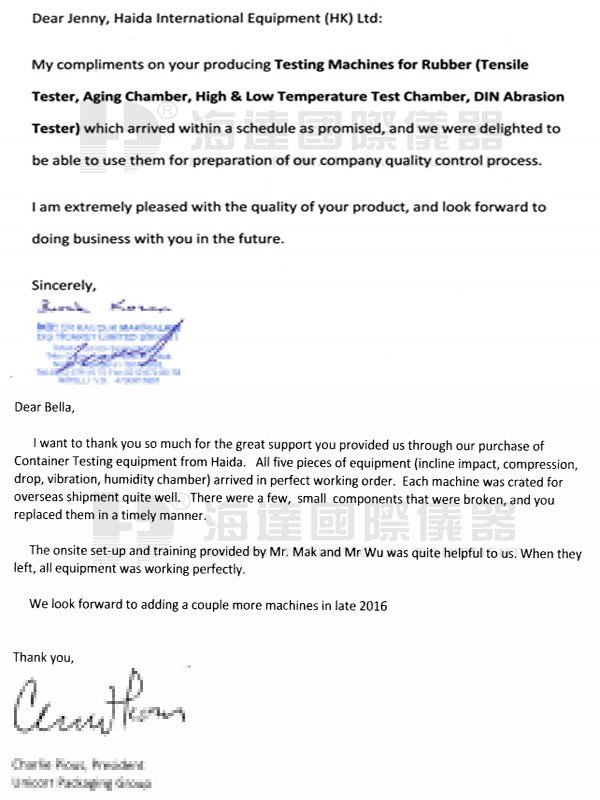 See what company you will work with?
1. Largest TESTING EQUIPMENT manufacturer in China, One of Second Largest TESTING EQUIPMENT manufacturer around the world.
2. Professional Manufacturer of various kinds of testing equipments over 10 years, defect rate is controlled under 0.02%.
3. Completely Production Line. From Raw Material to Delivery, all links are under our control. The quality can be assured.
4. ISO 9001:2008 Quality Management System Certificate.
5. OEM/ODM Service. Just tell us your idea! Our R&D Team is standing by…
6. Our Marketing Investigation Department will send Marketing Research Report to you each season.
7. We are trusted by SCS, INTERTEK, HST, COFCO, ESC, KBMC, LENOVO, PANASONIC, EMC, etc.
8. We accept 100% inspection.
9. Guarantee Period: 365 days, After Sales Service Department provides professional service with you, any questions, just contact us.