Needle type moisture meter:Adopt Japanese advance sensor, small and portable, suitable for site determination analysis. Digital display, simple and quick, with types of correction, ensure high accuracy. It applies to measure the moisture of rice straw, wheat straw, waste paper , reeds , small garden bamboo , mango stalk , etc.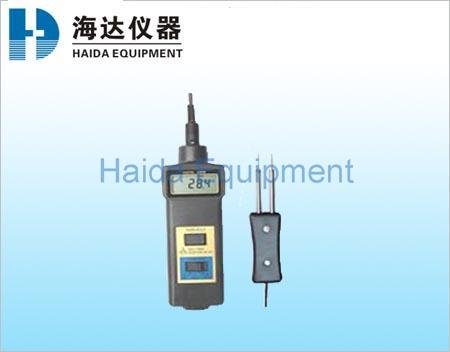 Needle Type Moisture tester

Model

HD-A820-1

Test Moisture Range

0~50%

Test Temperature Range

-10℃~60℃

Accuracy

± (0.5%n+1)

Resolution

0.10%

Outside Dimension (L×W×H)

182×68×38 mm

Measuring Rod Dimension (L×W×H)

170×44×25 mm

Power

4 Pieces No. 5 batteries

Weight

Approx. 334g

It is applicable to testing the moisture content of wood & wood fiber materials, such as, bamboo, carpentry, herbs, tobacco, cotton, paper and other non-conductive substances.