Perspiration tester
Product introduction:
Put the compound specimens in the acid and alkali of artificial sweat, completely evenly welt ,after dipping 30 minutes, press in with the device, placing in the oven for 4 hours. Take out the test pieces, after drying, evaluate the levels of the  resistance to sweat. Apply to all kinds of fiber cloth fabric and the shoes.
The instrument standard
BS1006, BS, EN, ISO20105, ISO105, AATCC15, 106,107, ASTM6, 174,175 and other standards.
The main technical parameters:
Design criteria:AATCC-RR52,ISO-105E04,JIS-L0822,0846,0847,0854
Specimens: JIS (A) 60*60mm;
JIS (B) 40*100mm; AATCC57*57mm
Loading: JIS (A) 4.6kg;JIS (B) 5.1kg; AATCC 8 lb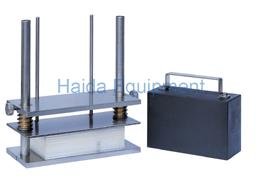 Our company
Introduction:
HAIDA INTERNATIONAL is a professional manufacturer of various kinds of testing equipments over 24 years. HAIDA products are widely used in paper products, packaging, ink printing, adhesive tapes, bags, footwear, leather products, environment, toys, baby products, hardware, electronic products, plastic products, rubber products and other industries, and applicable to all scientific research units, quality inspection institutions and academic fields.
After-service
If you face any problems in future during testing process we promise we will give you a reply within 48 hours and solution provide within 3 working days. We can offer operation video and English operation manual. We can provide video-conference. If customers require on-site service, the transport and travel expense shall be borne by customer;