Specifications
Handle Durability Tester 
1.Professianl design 
2.Hi-Q,Factory outlet 
3.Reasonal price,good sales service 
Features
Luggage pull Rod fatigue Testing machine applies to the fatigue test of the rod attached on the luggage.During the test, the rod is stretched,which leads gaps,loosing,barrier and deformation of the rod.
The parameters
Handle Durability Tester

Mode

HD-D115

Test Stroke

20-100cm  Adjustable

Drawing Speed

0-30cm/sec  Adjustabel

Compression Speed

0-30cm/sec  Adjustabel

test times

1-999999   Automatic shutdown

test power

Pneumatic cylinder

Specimen height

Hightest 200cm

Auxiliary equipment

Bags fixed clamp

Pressure

5-8kg/cm2

Machine size

120×120×210cm

Weight

150kg

Power

1ø, 220V/50Hz

Design criteria

QB/T 2919-2007
The images of this machine 
Luggage Handle Reciprocating Tester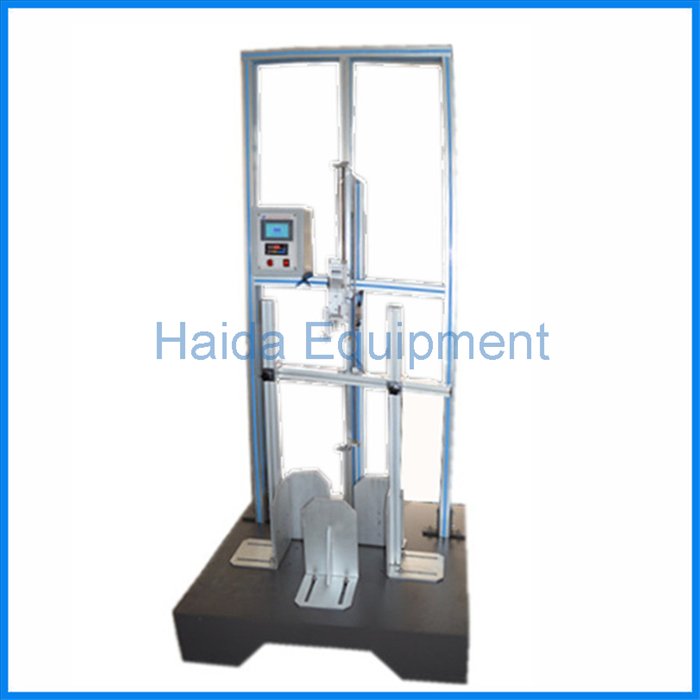 The introduction of Haida
Haida products are widely used in paper products, packaging, ink printing, adhesive tapes, bags, footwear, leather products, environment, toys, baby products, hardware, electronic products, plastic products, rubber products and other industries, and are applicable to all scientific research units, quality inspection institutions and academic fields. Our products meet UL, ASTM, JIS, GB,SO, TAPPI, EN, DIN, BS and other domestic and international standards.