Testing purposes: the dynamic, the infant carrier or seat fixed on the frame of the device must not break down, loose or may not have any damage in the test or test.
Design standards: EN1888
Control modes: manual control
Test surface material: P-60 sandpaper
Angle Modulation: Motor
Angle Display: Digital
Angle Accuracy Tolerance: <1 degree
Maximum weight 100KG
Angle: 0 ° - 20 °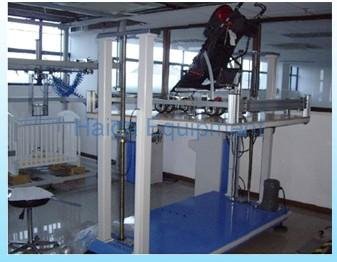 Test status:
Basket or seat mounted on the frame. Operation basket or seat fixed on the frame 200 fixtures.
Load block A on the basket at the bottom of the class 0 car seat, or the B load block on the seat inside or F load block on the 0 + class car seat and fasten it to the center.
If the car bed design can carry more than one child using multiple test load placed on each one in each child take a regional.
Wheel or axle wagon is fixed in a rigid platform, this platform around the axis parallel to the ground.
Slowly accompanied by the test load car clockwise and counterclockwise rotation of 100 degrees to enable the fixtures to test load transferred to the frame. Test steps:
1, the test weight is placed on the baby inside the car, the four wheels of the stroller on the table;
2, manually wheel turn in the same direction 100 °, back in situ, and then reverse direction to turn 100 °;
3. Observe the testing process, withthechangesofpositionbyforce, strollers parts of the forcetotearcause damage;
Our company
Introduction:
HAIDA INTERNATIONAL is a professional manufacturer of various kinds of testing equipments over 24 years. HAIDA products are widely used in paper products, packaging, ink printing, adhesive tapes, bags, footwear, leather products, environment, toys, baby products, hardware, electronic products, plastic products, rubber products and other industries, and applicable to all scientific research units, quality inspection institutions and academic fields.
After-service
If you face any problems in future during testing process we promise we will give you a reply within 48 hours and solution provide within 3 working days. We can offer operation video and English operation manual. We can provide video-conference. If customers require on-site service, the transport and travel expense shall be borne by customer;