Stroller Handle Strength Tester
---
Brief:
Stroller Handle Strength Tester is to test the upholding and pushing durability property of the baby stroller according to EN Standards. 


Main Parameters:
Test displacement:

Move up and down 120~150mm

Adjust the distance of handle:

Max 200 mm

Effective width:

Max.800mm

Test count:

0-999,999

Air pressure requirement:

≤7kgf/cm

Display

LED display  (LCD touch screen for option)

USB Readout

Optional

EN 1888 clause 8.10.6 requirements

Test Cycle

10 000 cycles

Frequency

(15 ± 2) cycles/min

Height raised

rear w& front wheels in turn are raised (120 ± 10) mm


Application:
Every day children are hurt when interacting with products in their daily environments, even with products made especially for children, such as the baby strollers, baby carrie, baby toys, baby bed  etc.
HD-J214 Stroller Handle Strength Tester is designed based on EN 1888 Cluase 8.10.6 requirments, which can help the manufacturer and the testing orginzation to finished the handle strength test.

1.Stroller Movement Based On EN 1888 clasue 8.10.6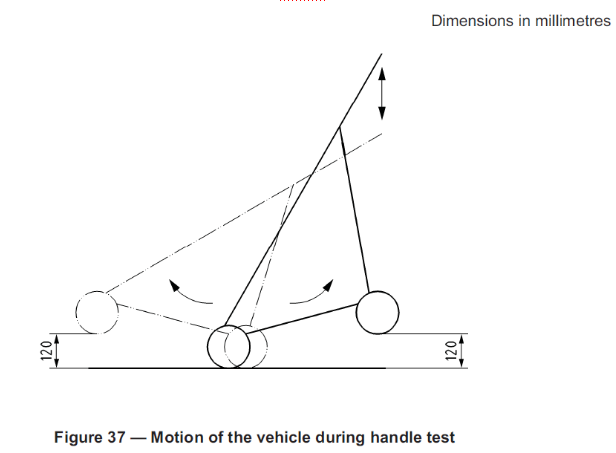 2.Test Special Requirments On Handle Strength Test
Where the downwards force necessary to lift the front wheels exceeds 450 N, carry out the test by applying alternately a downwards 450 N force and an upwards force necessary to raise the rear wheels for 3 000 cycles at a frequency of (15±2) cycles/min, then continue the test by only raising the rear wheels (120±10) mm for additional 7 000 cycles at a frequency of (15 ± 2) cycles/min.


Machine View: