1. The Application:
Rub Testing Machine is applicable to testing ink layer of materials like labels, folding cartons, corrugated boxes, etc.Ink Rub Tester can do dry or wet rubbing test, discoloration test, paper fuzzy test, and special friction test. It can help users to analyze the reason of lower abrasion assistance, ink layer falling-off, lower printable of PS board, and adhesion of coating layers of other products.
2. Design criteria: JIS-5071-1, TAPPI-UM486, GB7706
3. Technical parameters:
| | |
| --- | --- |
| Friction Load | 908g ( 2LB), 1810g (4LB) |
| Friction Stroke | 60mm |
| Friction Area | 50×100mm |
| frequence Setting | 0~9999 times, auto-shutdown |
| Outside Dimension (L×W×H) | 330×300×380mm |
| Weight | 35kg |
| Power | AC 220V, 60W |
| Design Criteria | JIS-507-1, TAPPI-UM486, GB7706 |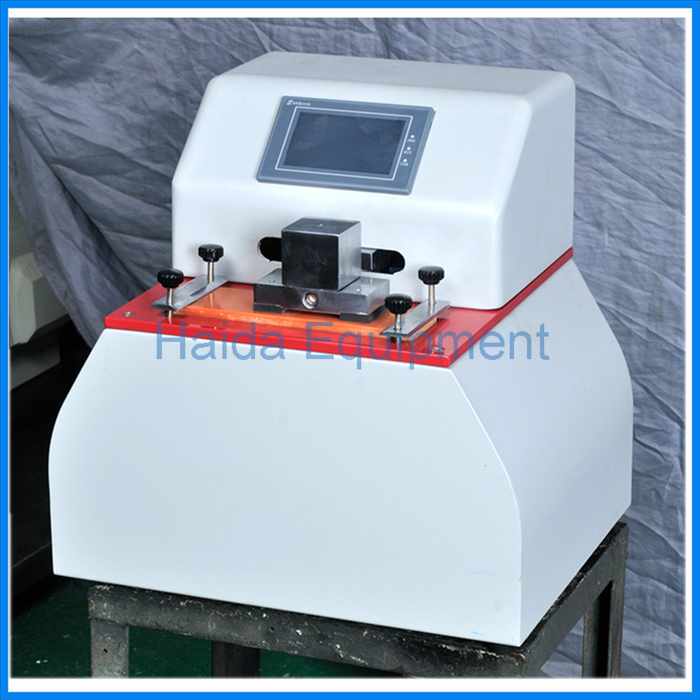 The introduction of Haida
Haida products are widely used in paper products, packaging, ink printing, adhesive tapes, bags, footwear, leather products, environment, toys, baby products, hardware, electronic products, plastic products, rubber products and other industries, and are applicable to all scientific research units, quality inspection institutions and academic fields. Our products meet UL, ASTM, JIS, GB,SO, TAPPI, EN, DIN, BS and other domestic and international standards.