Air Cooling Light Fastness Tester (xenon arc)
Introduction
This machine designed to meet the requirements of ISO 105 B02 and AATCC Test Method 16 standards. It has a rotating specimen rack and provides precise control of critical test parameters including spectrum, irradiance, relative humidity, chamber temperature and black standard temperature.
Usage
To determine the resistance of the color of textiles to fade when exposed to artificial light (xenon arc) which is representative of natural daylight.
Testing standards
ISO 105-B02 Textiles -- Tests for color fastness -- Part B02: Color fastness to artificial light: Xenon arc fading lamp test
ISO 105-B04 Textiles -- Tests for color fastness -- Part B04: Color fastness to artificial weathering: Xenon arc fading lamp test
ISO 105-B07 Textiles -- Tests for color fastness -- Part B07: Color fastness to light of textiles wetted with artificial perspiration
AATCC TM 16 – Option 3 Colorfastness to Light: Xenon-Arc
M&S C9 Colorfastness to Light
M&S C9A Colorfastness to wet light in the presence of alkaline or other chemical residues
JIS L 0843 Test method for color fastness to xenon arc lamp light
JIS L 0888 Test method for color fastness to light and perspiration Method B
IS 15203 Textiles - Method of Test for Determination of Color Fastness of Textile Materials to Artificial Light at High Temperatures - Xenon Arc Fading Lamp Test
Salient features
1. Full Color 10.4" Touch Screen Control Panel Display of
■ Direct Setting and Control of Irradiance
■ Direct Setting and Control of BPT/BST
■ Direct Setting and Control of Relative Humidity
■ Direct Setting and Control of Specimen and Chamber Air Temperature
■ 8 Factory Pre-programmed Test Methods
■ Space for 4 Custom Programs
2. Graphic display of the progression of all test parameters.
3. High performance, long lasting, air-cooled xenon lamp.
4. Solar-powered radiometer, incorporating a black standard thermometer.
5. Works in "controlled irradiance" or "blue wool" mode.
6. Eleven double-sided sample holders offer a massive exposure area of up to 1370cm².
7. Refined software which perfectly reflects the needs of the operator.
8. High efficiency power supply ensures running costs remain low.
9. Complies with international standards for textiles, leather and other materials.
10. Compact, stylish and ergonomic design.
Technical parameters
Light Source

2500W air-cooled xenon arc lamp (recommend replacing lamps every 1500 hours)

Test types

Light only, Dark only, Spray only

Total Exposure Area

1370cm²

Test Positions

11 (ISO) or 5 (AATCC)

Exposure Area of each Test Position

ISO 65.25cm² (145 x 45) mm

AATCC 108.75cm² (145 x 75) mm

Irradiance Monitoring System

Radiometer

Irradiance 420nm Range

0.80~2.01W/m²

Rack rotating speed

5r/min

Test Chamber Humidity Range

Light Cycle 10%~70%RH,Dark Cycle 30%~95%RH

Test Chamber Temperature Range

25ºC~50ºC

Black Standard Temperature Range

40ºC~85ºC±1ºC

Black Panel Temperature Range(optional)

40ºC~80ºC±2ºC

Water spray

specimen surface

Water Reservoir Capacity

15 liters

Water Consumption (ISO 105-BO2 Normal)

0.9 l/h (max.)

Color Touch Screen

Supplied as standard

Chamber Viewing Window

Supplied as standard
Lamp & Lantern Specifications
| | | |
| --- | --- | --- |
| Item | Qty | Description |
| Lamp | 1 | 2500W Xenon, Air-Cooled |
| Inner Filters | 7 | Windows |
| Outer Filter Cylinder | 1 | Quartz |
Spectral Power Distribution from 300 to 600 nm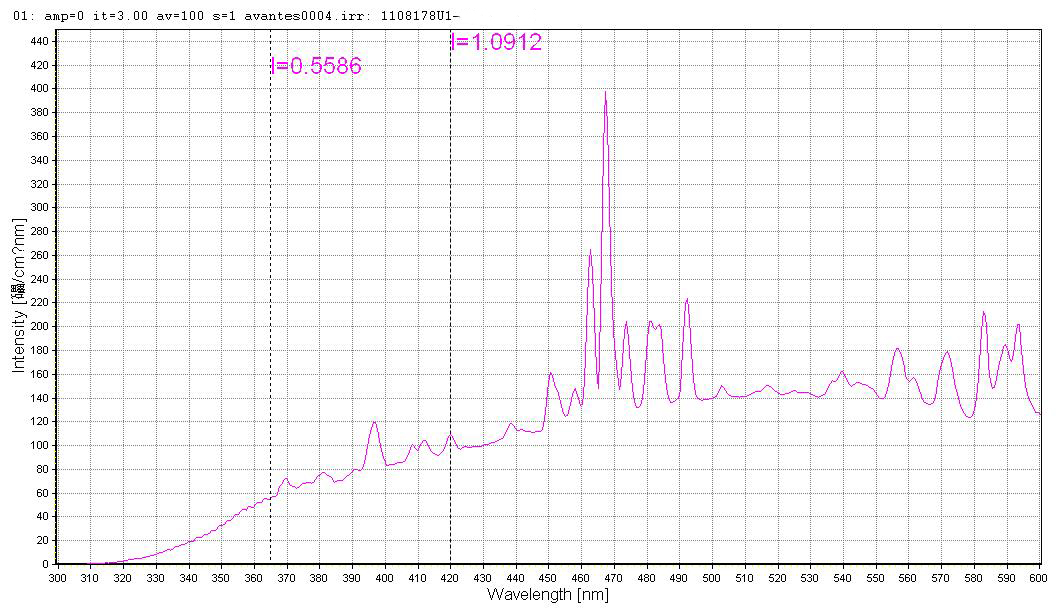 Accessories supplied with the instrument:
1.Main Unit:01 No.
2.Test Kit 7.3cm² (Ø 30.5mm) and 50cm² (Ø 79.8mm):01 No.(each)
3.Synthetic Rubber Diaphragms(Maufacturer:James Heal):05 Nos.
4.Diaphragm Unit Tightening wrench:01 No.
5.Air Pipe (To connect with compressor):01 No.
6.Glycerol (500mL):01 No.
7.USB software:01 No.
8.Power Cord:01 No.
9.This User's Manual:01 No.
10. Inspection & Conformance Certificate:01 No