50KN Tensile Tester


Product Description
Tensile testing, also known as tension testing, is a fundamental materials science test in which a sample is subjected to uniaxial tension until failure. The results from the test are commonly used to select a material for an application, for quality control, and to predict how a material will react under other types of forces. Properties that are directly measured via a tensile test are ultimate tensile strength, maximum elongation and reduction in area. From these measurements the following properties can also be determined: Young's modulus, Poisson's ratio, yield strength, and strain-hardening characteristics.

APPLICATIONS
1. Deformation under defined load: Test deformation under defined load of tested sample
2. Load under defined deformation: Test load under defined deformation of tested sample
3. Software can issue report with results for max. force, elongation, tensile strength, peel strength, tear strength, compression strength, etc.
4. This machine can do different test as per customer requirement such as peel test, tear test, compression test, bend test with different clamps.
Main Technical Parameter
Item

Description

Max. Force

5000 kg (50KN)

Load cell

Germany brand load cell for high accuracy

Control system

PC with windows 7 system

Motor

Panasonic servo motor w/ DC variable speed drive system, high-precision mechanical ball screw rod

Force reading

kgf, Ibf, N, KN, T etc

Stoke

1100mm including fixture

Load cell Resolution

1/250,000

Load Precision

within ±0.5%

Test speed

0.01~300mm/min (adjustable)

Software

TM 2101

Curves display

Load- elongation, Elongation-time, Time-elongation, Stress-strain

Data display

Max. force, speed, sample information, strength(Kpa, Mpa, N/mm, N/mm2) etc…

Safety features

E-Stop

Over-load protection

Upper and lower limit switches

Load sensor with automatic retreat
Product Features
1. Motor system: Panasonic servo motor +Servo driver +High precise ball screw (Taiwan)
2. Control system: a, computer control with TM2101software;b, Back to origin automatically after the test, c, store data automatically or by manual operation
3. Data transmission: RS232
4. Displacement resolution: 0.001mm
5. Graph scale automatic optimization can make graph to display with best measurement and can implement graphics dynamic switching in the test and has force-elongation, force- time, elongation -time, stress - strain.
6. It can save results automatically after test finished, and it is manual filing. It can display maximum force, yield strength, compressive strength, tensile strength, elongation, peel interval maximum, minimum and average, etc.
7. User can set parameters of product materialsuch as length, width, thickness, radius, area and so on.
8. Many languages random switching: Simplified Chinese, Traditional Chinese, and English.
Software and Curves
The TM2101 softwareis designed purposely for computer controlled electronic universal testing machine, used for tension, compress, bend, shear, tearing andpeel test. With the personal computer and interface plate, it could collect, save, process and print test result. Further it can calculate multiple parameters, i.e. maximum force, yield strength, average peel force maximum deformation, yielding point and elastic modulus; this system is featured in curve process, multi-sensor support, image interface, flexible data process and powerful system function.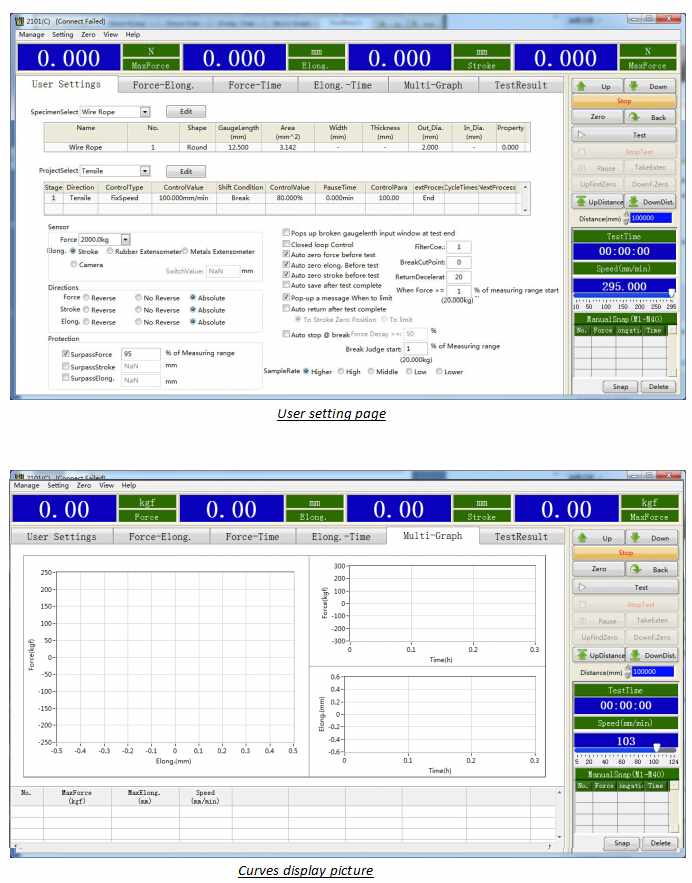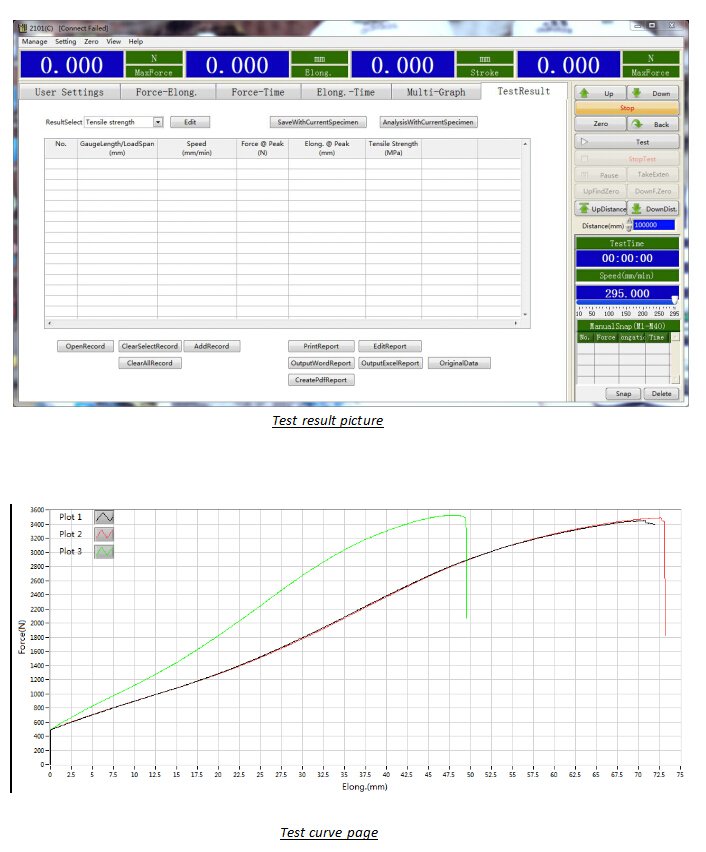 Simulation Animatronic Customer Triceratops are covered with air bubble film before put them into the wooden case, which not only has good shock absorption, impact resistance, heat sealing and also has the advantages of nontoxic, odorless, moisture corrosion, good transparency etc.
The introduction of Haida
Haida products are widely used in paper products, packaging, ink printing, adhesive tapes, bags, footwear, leather products, environment, toys, baby products, hardware, electronic products, plastic products, rubber products and other industries, and are applicable to all scientific research units, quality inspection institutions and academic fields. Our products meet UL, ASTM, JIS, GB,SO, TAPPI, EN, DIN, BS and other domestic and international standards.
If you face any problems in future during testing process we promise we will give you a reply within 48 hours and solution provide within 3 working days. We can offer operation video and English operation muanual. We can provide video-conference. If customers require on-site service, the transport and travel expense shall be borne by customer.