Safety Shoes Impact Test Equipment


Specifications
1,Meet standard of EN, ANSI, BS, CSA
2,Use friendly &easy operation
3,Motorised lift of the striker mechanism
4,Short delivry
Description:
Safety Shoes Impact Test Equipment is suitable for safety shoes, labor protection shoes, work shoes and monomer of baotou steel impact test, in order to understand safety index of the product ,and also be used for a variety of impact (drop) tests with the appropriate anvils and strikers , Safety Shoes & Footwear Impact Tester is ideal for testing to the safety footwear standards and meets the full requirements of the latest revisions to the standards.
new features:

motorised lift of the striker mechanism automatically moves to a pre-set height

incorporates a speed sensor that will determine if the correct impact energy has been achieved.

It complies with EN, ANSI, BS, CSA regulations.

Impacting the the steel toe caps of satety shoes through 100J or 200J power,

The design is different among EN, ANSI, BS, CSA,

standard:
BS-953,1870, EN ISO 20344, ANSI-Z41, CSA-Z195, ISO 8782, CANZ195, GB / T20991
Specification:
Drop hammer weight

20±0.2kg, (BS, ANSI) 22.7kg

Falling altitude

0-1100mm

Impact capability

200J, (BS, ANSI)100±2J

Impact blade ring

3±0.1mm R, (ANSI)25.4 D

Horsepower

AC 1/8HP

Volume-mainframe

21.5*19*12.6

Weight

227kg

Power

3∮,AC380V

Design criteria

BS-953, 1870, EN-344, ANSI-Z41
CSA-Z195, ISO8782

Technical Specifications
1, the height of free fall is 1000mm, the impact of the energy produced is falling (100 ± 2) J.
2, impact resistance hammer an impact hammer wedge length of 60mm, two wedge faces intersect 90 °, the top wedge surface intersecting a radius of 3mm fillet. fine
Indeed meet the standards.
3, with automatic guidance system to ensure accurate hammer smashing down on safety shoes.
4, electric lifting device having a photoelectric positioning device, automatic positioning, accurate and reliable

view: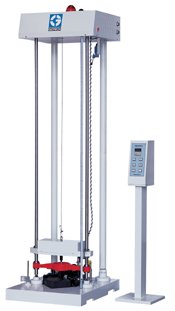 Why choose us?
1. Considerate Service Different countries plugs, manually change the-voltage from 110V to 220V, insurance indicator.

2.Excellent After sale Service:
18 months warranty. Besides, we can help you to repair your problem controller freely, even it's
not from our factory. What you need to do is to send us the controller.

3.Commitment:
We will sign a letter of commitment while we sign the contract, which will improve your confidence to us.

4.Good Packaging:
Simulation Animatronic Customer Triceratops are covered with air bubble film before put them into the wooden case, which not only has good shock absorption, impact resistance, heat sealing and also has the advantages of nontoxic, odorless, moisture corrosion, good transparency etc.

How to Contact Us?
Please Send your inquiry Details in the below for our quotation,Click "Send" Now!