Xenon lamp weathering test chamber


The usage
Xenon lamp weathering test chamber is a comprehensive climate test device, in addition to climate aging test, but also high-light-resistant materials can be tested, that polymer material exposed to simulated sunlight through the artificial spectrum of artificial light down the evaluation Lightfastness of materials
The certification
ISO 9001:2000; ISO 9001:2008; QS-9000; ISO 14001:2004; CE, SGS, SMC, CMC, CPA, CE,CMA,IMC
Specifications:
Item

Specification

Internal Dimension (W*D*H)

800*800*800mm

External Dimension (W*D*H)

1450*1500*2000mm

Inner chamber material

SUS 304 # Stainless Steel, Anti-rust, easy to clean

Outer chamber material

Stainless steel

Chamber Temperature

40±3℃

Temperature Uniformity

≤3℃

Blank panel temperature

65±3℃

Humidity Range

50%-90%

Irradiated intensity

0.35±0.02w/m²at 340nm

Xenon lamp power

6.5KW water-cooled xenon lamp x 1pc

Control system

PLC controller, touch screen

Distance from specimen to arc center

250~300mm, Effective exposure area 6400cm2

Max. Sample dimension

200*90mm Thickness<20mm

Filter

Daylight filter

Door seal

Silicone rubber seal

Temperature sensor

PT100 high precision temperature sensor

Air circulation system

Stainless steel centrifugal rotor vane to improve the uniformity of temperature and humidity

Cooling ventilator

Automatic controlled by temperature controller, and inner chamber cooled by refrigerating system

Cooling ventilator

France Tecumseh compressor

Power

AC380V, 50Hz, three phase

Safety Protection

Over heat protection for fan,

Over load protection for cooling system,

Over pressure protection for cooling system,

Over temperature protection,

Over heat and over flow protection for water pump,

Leakage protection, Water shortage protection,

Auto stop after failure warning
The images of this machine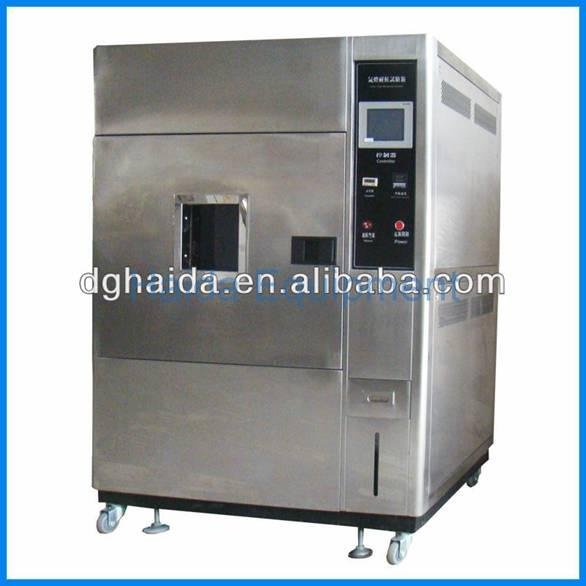 The introduction of Haida
Haida products are widely used in paper products, packaging, ink printing, adhesive tapes, bags, footwear, leather products, environment, toys, baby products, hardware, electronic products, plastic products, rubber products and other industries, and are applicable to all scientific research units, quality inspection institutions and academic fields. Our products meet UL, ASTM, JIS, GB,SO, TAPPI, EN, DIN, BS and other domestic and international standards.