Features:

1, Advanced CCD technology for scanning with max. distance of 450mm;
2, High scanning speed, of 400 times / second, with better readability for rough bar code than laser equipment;
3, With bending scanning caliber for easy reading;
4, The max. Figure no. Is 11 lines, 6rows;
5, Equipped with Bluetooth and IEEE802.11 wireless communication;
6, Anti-buffering material for tester and anti-shocking rubber for scanning head can protect from dropping at 1.5m for 30 times, which meets the standard of IP54;
7, Use 1700mahlithiumbatterycan work 135hours with speed of 5s / time;
8, With vibration function for sensing ending and error;
9, Durable keyboard made from wear resistant fibre material
10, With remote function controlled by PCfor BHT300, updated BHT300operation system, upgraded application program, and latest data base.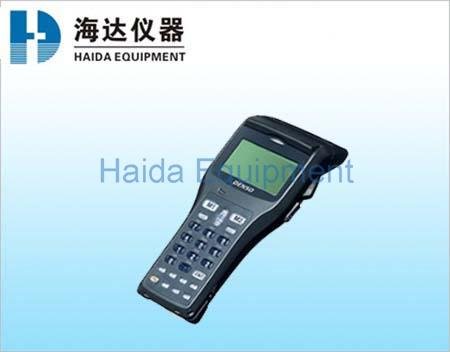 Technical parameter:
Memory: 5MB(user space2.2MB); 9MB(user space 5.8MB)
Display: Black and white dot matrix LCD display screen
Dot matrix: 132×72;
Figure display: English - 9lines×22; Chinese - 6lines×11
Scanning method: CCD
Scanning distance: 450MM
Reading bar code: EAN-13/-8,UPC-A/-E,CODE39Interleaved2of5,CODABAR,CODE93,CODE128,Standard2of5
Resolution: 0.125mm
Data confirming and function: Red & Green LED, alarm, vibration, remote control, clock, display balanceof battery
Keyboard number: 26+2touch swifts
Communication method: Infrared (Meet IrDA-SIR Ver.1.2,fastest speed 115.2kbps)
Communication wire: I/F(RS232C, fastest speed 115.2kbps)
Power: lithiumbattery(1700mAh)
Operation temperature: -5℃-50℃
Waterproof and dustproof index: Meet standard of IP54
Drop resistance: Drop 5 times at 1.5m for 6 sides
Weight: 230g
Charging batter (B-20L): 135hours with speed of 5s / timeCharging communication plate (CU-301): RS232interface for charging 3 hours
Charging communication plate: (CU-321) USBinterface for charging 3 hours
Charger(CH-201): Charge single lithiumbatteryfor 3 hoursCharger (CH351): Charge main machine for 3 hours