Dupont Impact Tester
Usage:
    Dupont Impact Testing Machine  is used for testing the firm degree ofthe plastic, ceramic, acrylic, glass fiber materials and coatingmaterial.
Principle
Dupont Impact Testing Machine  to be provisioned of the weight of the steel ball, adjust a certain height, dropfeely and attack samples, observe the degree of damage.
Dupont Impact Testing Machine  Design Criteria
This machine meets the design criteria:JIS-K5600(coating)、ASTM-D2794、JIS-K5400 and so on.
Dupont Impact Testing Machine 
Specification
Item    

Specification

General material

Coating specimens

Plasticspecimens

Max height

50~500mm

50~1000mm

Balls control method

Manual setting

Impact head radius

1/2,1/4,3/16,1/8,1/16in,5mm

7.9mmR(5/16"R)

Impact platform radius

Plane 1/4,3/16,1/8,1/16in

8.1mmR, 15mmR

Weight

300,500,1000g  one in each

1000g、2000g in each

Volume(about)

50cm×50cm×150cm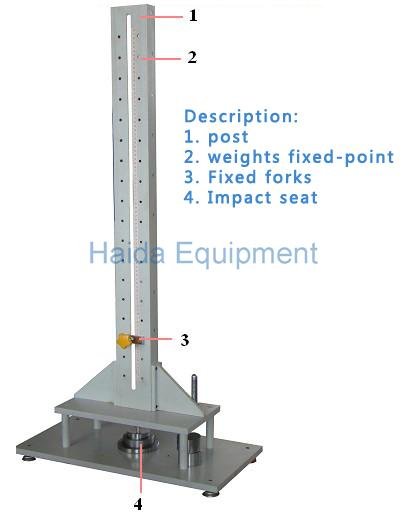 Our company
Introduction:
HAIDA INTERNATIONAL is a professional manufacturer of various kinds of testing equipments over 24 years. HAIDA products are widely used in paper products, packaging, ink printing, adhesive tapes, bags, footwear, leather products, environment, toys, baby products, hardware, electronic products, plastic products, rubber products and other industries, and applicable to all scientific research units, quality inspection institutions and academic fields.
After-service
If you face any problems in future during testing process we promise we will give you a reply within 48 hours and solution provide within 3 working days. We can offer operation video and English operation manual. We can provide video-conference. If customers require on-site service, the transport and travel expense shall be borne by customer;
Tag : plastic testing, materials testing equipment