falling ball impact test machine
Falling ball impact test machine Product Description:
Falling ball impact test machine for plastic / ceramic / glass fiber and other materials fastness testing. Test method: falling ball impact test machine test method in order to provide the weight of the ball, adjust to a certain height, so that free fall against the specimen, depending on the extent of the damage, to determine quality. Falling distance of up to 2m, drop weight can be adjusted between 1.25kg to 10kg, can provide a variety of sample holder.
Design Standards: JIS-K6754, A5430, ISO 6603, BS4660, BS4514, BS3505, BS2782: 11 Part: Method 1108A,, ASTM D5420, ASTM D3029
The main technical parameters:
Maximum height: 2m
Falling Ball control: DC solenoid control
Ball Weight: 357,533,1042,2280 g
Volume: 50 × 50 × 210cm
Weight: about 30kg
Power source: 220V/50HZ
Test method:
Drop hammer impact test machine / falling ball impact test machine: the impact energy by dropping height and weight is calculated as follows:
Hammer impact energy = weight (kg) * drop height (m) * g
g: acceleration due to gravity = 9.81m/s/s
Product Features:
1 unique design, or components used to assess the impact properties of the specimen
(2) the drop height up to 2000mm, can produce the maximum 6.264m / s impact velocity
3 hammer weighing between 10kg 1.25kg maturity
4 Maximum impact energy of 196 joules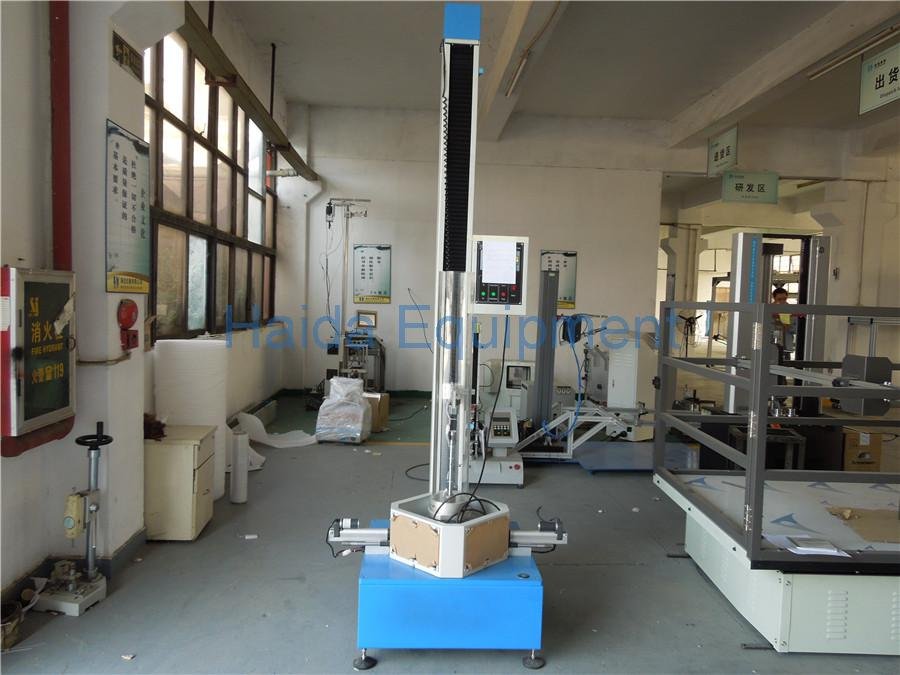 Our company
Introduction:
HAIDA INTERNATIONAL is a professional manufacturer of various kinds of testing equipments over 24 years. HAIDA products are widely used in paper products, packaging, ink printing, adhesive tapes, bags, footwear, leather products, environment, toys, baby products, hardware, electronic products, plastic products, rubber products and other industries, and applicable to all scientific research units, quality inspection institutions and academic fields.
After-service
If you face any problems in future during testing process we promise we will give you a reply within 48 hours and solution provide within 3 working days. We can offer operation video and English operation manual. We can provide video-conference. If customers require on-site service, the transport and travel expense shall be borne by customer;