Specifications
HD-A820-4 Halogen Rapid Moisture Tester
1.High quality & high accuracy with reasonable price.
2.Fast delivery.
3.OEM.
The Usage:
SFY Series Infrared water content testing machine, adopting pyrolysis weight principles, is a new rapid moisture testing equipment. While measuring the weight of the sample, infrared heating units and water evaporation channels fast dry the sample rapidly. During the drying process, moisture meter instantly displays the lost moisture content of the sample. When drying process completed, the final determination of the moisture content values are locked Display.
The Specifications:
HD-A820-4 Halogen Rapid Moisture Tester

Model

HD-A820-4

Load range

0~60g (designated 0~100g)

Minimum Load Readout

0.01g

Sample Weight

0.5~60g

Temperature Range

Room Temperature~180°c

Readability moisture content

0.01%

Parameters Display

7

Communications Interface

RS 232

Outside Dimension (L×W×H)

380×205×325 mm

Power Capacity

270W (at work) 20W (standby)

Power

220V ±10%

frequency

50Hz ±1Hz

Weight

3.7Kg
The image of the machine: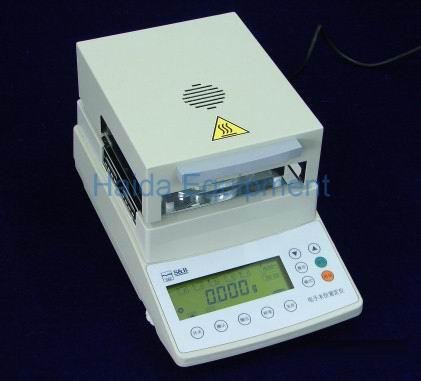 The introduction of Haida
Haida products are widely used in paper products, packaging, ink printing, adhesive tapes, bags, footwear, leather products, environment, toys, baby products, hardware, electronic products, plastic products, rubber products and other industries, and are applicable to all scientific research units, quality inspection institutions and academic fields. Our products meet UL, ASTM, JIS, GB,SO, TAPPI, EN, DIN, BS and other domestic and international