Chromatic Meter is widely used in rubber and printing industries, which can display △E value and △Lab value ofcolor difference between sample and testing specimen according to Lab and Lch principle of CIE color space.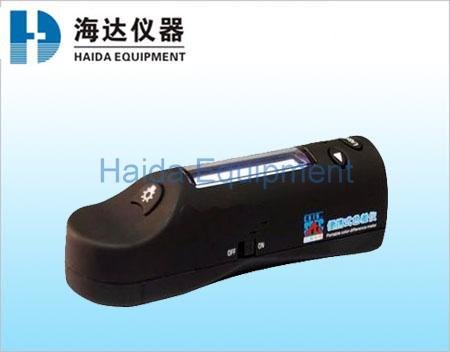 Technical Parameter:
Measuring accuracy: 0.20ΔE*ab
Display content: △E*ab、CIE_Lab、△Lab CIE_XYZ、CIE_xyY
Testing range: L: 0—100 a: -128—127 b: -128—127 
Testing time: 3 seconds
Testing distance: approx. 2 seconds
Testing bore diameter: ¢8mm 
Light source: LED
Sensor: siliconphotoelectricdiode
Machine Size: 171x50x49mm
Weight: 186g ( Battery is exclude)
Standard accessories: Operation Manual, 9V battery, 5V External power, USB, CD
Features:
1, Automatically compare the color difference between testing specimen and samples, output CIE, Lab and Lch data & △E、△L、△a、△b four groups of color different data, and provide color matching reference.
2, Portable and practical with two power supply mode: battery and external power.
3, Equipped with USB interface to connect with computer, which is convenient to store date and print.