1. Function:
Tube type anti-yellowing testing machine simulate the environment of sun radiation, mainly to test the anti-yellowing of light-colored or white materials for shoes and substrate under the sunlight. Observing the color changes in the sample surface and to determine the discoloration of the sample according to the phenomenon that light-colored or white material to turn to yellow under a long natural sunlight, and thus determine the anti-yellowing capacity of material in the sunlight radiation. It is a good reference for making shoes and choosing the raw materials.
2.The main technical parameters
Inner box size:around 51×32×26cm(L*W*H)
temperature range: room temperature
Testing distance:150-250mm
Testing tube:15W infrared ray tube 2 sets
Trays: two sets, the height cannot adjust
Timer:0~ 99.9H or M or S,LED
Machine size: 68×34×37cm
Machine weight: approx. 12Kg
Design criteria: CNS
Power supply:1 AC220V 50hz
3 Test Specimen Mounting:
The standard test specimen holder accommodates 2 panels 75×150mm. The test panels are actual the side wall of the chamber. To properly seal the chamber, it is important to have every panel holder filled with specimens or blank panels and to have panel holders in place.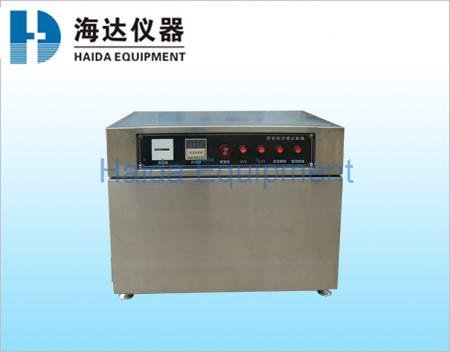 Our company
Introduction:
HAIDA INTERNATIONAL is a professional manufacturer of various kinds of testing equipments over 24 years. HAIDA products are widely used in paper products, packaging, ink printing, adhesive tapes, bags, footwear, leather products, environment, toys, baby products, hardware, electronic products, plastic products, rubber products and other industries, and applicable to all scientific research units, quality inspection institutions and academic fields.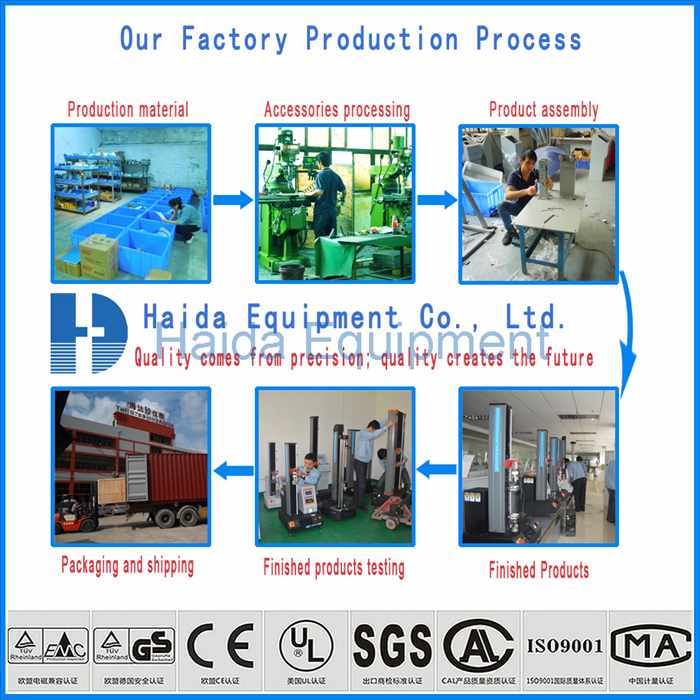 After-service
If you face any problems in future during testing process we promise we will give you a reply within 48 hours and solution provide within 3 working days. We can offer operation video and English operation manual. We can provide video-conference. If customers require on-site service, the transport and travel expense shall be borne by customer;