Melt Flow testing for PP and PE
Specifications
1.Melt Flow Indexer is used to determine melt-mass flow rate .
2.High quality,melt indexer
3.Direct factory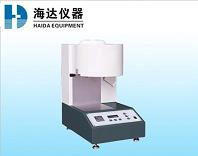 Melt Flow testing for PP and PE
1.Melt index tester is used to determine melt-mass flow rate (MFR).
2.High quality,melt indexer
Specification
Model: 

HD-R803

Manufacture standard:

ASTM-D1238,D3368,JIS-K7210

Tempreture control

50 ~450°C,PID control,Accuracy±0.1°C(including the overtempreture protection)

Weights

1200g, 2160g,3800g,5000g,10000g

Automatic cropping device

Automatic cropping and manual operation(optional)

Time setting

 0.1~999.9min Arbitrarily setting

Cylinder

Diameter9.5504±0.0076mm

Plunger:

Diameter9.4742±0.0076mm

Thin hole pattern

External diameter:9.5±0.02mm ,bore diameter2.0955±0.0051mm,lenth8.00±0.02mm

Size

(L×W×H)32×51×60cm

Machine Weight:

30kg(not including the weights)

Power supply

 AC220V,5A

Accessory

Mercurial thermometer150°C,200°C,250°C,300°C(optional),one
cleaning brush, one scraper, one guaid material stick, one observation
mirror, one feedstock funnel, three frictioning steel disc, two thin hole
pattern determine gauge.
 Product description
Melt Flow testing for PP and PE is used to determine melt-mass flow rate (MFR).melt-Volume flow rate (MVR) and melt density of thermoplastic resin.it is applicable not only to the higher melting temperature, such as polycarbonate, nylon, Fluoroplastics, poly oxide and other engineering plastics, and it also applies to plastic measurement of melt lower temperature,such as polyethylene, polystyrene, polypropylene, ABS resin, polyformaldehyde resin. At the same time, it is widely used in plastics raw materials products,the petrochemical industry and related universities, scientific research institutes, and commodity inspection departments.
Melt Flow Index tester  is based on designed and manufactured according to latest national and international standards. Its advantage to combined various machine of domestic and international models: compact structure,beautiful appearance Based on designed and manufactured according to latest national and international standards.
Our factory
Haida products are widely used in paper products, packaging, ink printing, adhesive tapes, bags, footwear, leather products, environment, toys, baby products, hardware, electronic products, plastic products, rubber products and other industries, and are applicable to all scientific research units, quality inspection institutions and academic fields. Our products meet UL, ASTM, JIS, GB,SO, TAPPI, EN, DIN, BS and other domestic and international standards.