Production:
Scanning Spectrodensitometer x-rite504 basic model can be quickly and reliably measure the density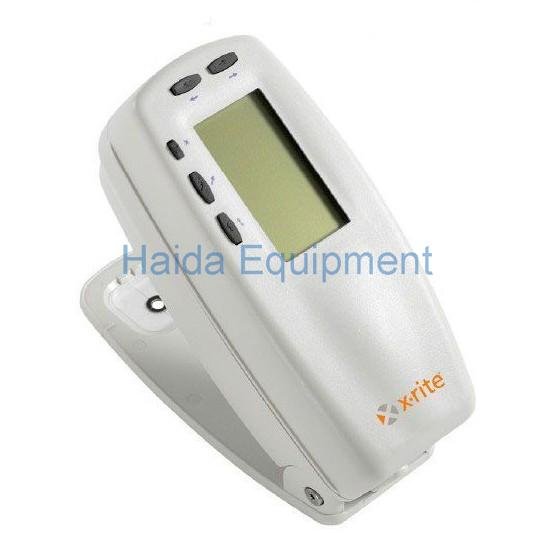 Brand: X-Rite X-Rite  Scanning Spectrodensitometer
Features: Scanning Spectrodensitometer Suitable for plate-making industry and the use of various types of printing, from prepress to help implement comprehensive color control workshop
Industry and the use of various types of printing plate
•Increase the color stability and improve print quality
•Spectral measurement sensor technology
•Large screen full Chinese display
•Simple calibration instructions, sturdy shell to prevent collisions
•five models were used to measure the density, density difference, dot size, dot gain, trapping, print contrast, hue error, gray, L * a * b * and L * c * h *, etc., the color comparison, the paper side color and brightness.
Scanning densitometer / spectrometer system
Instant printing production process provides an important information to help reduce makeready time and loss.
Spectrodensitometer
Technical parameters
Measuring geometry 45 ° / 0 ° meet ANSI, DIN & ISO Standards
Measuring 6.0mm diameter 3.4mm optional micro pore 1.6mmx3.2mm
Inflatable incandescent light pulse, color temperature 2856 °
Spectral range 400-700nm
Standard illuminant A, C, D50, D55, D65, D75, F2, F7, F11, F12
Standard viewing angle CIE 2 ° and 10 °
Response mode T, E, I, A, G, Tx, Ex, Hi-Fi
Measuring range density 0.00D-2.50D reflectivity 0-160%
Measuring time single measurement of about 1.4 seconds, fast read mode in about 0.9 seconds continuous measurement
Warm-up time required
Repeat Performance ± 0.005D 0.00-2.00D; ± 0.010D 2.00-2.50D
Inter-instrument 0.01D or 1% less than traditional printing 0.40ΔEcmc measuring 12 BCRAII Series Swatches
Data storage over 1400 samples (528 and 530)
RS-232 data interface
Rechargeable nickel-hydride rechargeable battery source 4.8V @ 1250mAH
Charging time is about 3 hours use of the environment
Weight 1050 grams (2.3 pounds)
Our company
Introduction:
HAIDA INTERNATIONAL is a professional manufacturer of various kinds of testing equipments over 24 years. HAIDA products are widely used in paper products, packaging, ink printing, adhesive tapes, bags, footwear, leather products, environment, toys, baby products, hardware, electronic products, plastic products, rubber products and other industries, and applicable to all scientific research units, quality inspection institutions and academic fields.
company
Our certification
After-service
If you face any problems in future during testing process we promise we will give you a reply within 48 hours and solution provide within 3 working days. We can offer operation video and English operation manual. We can provide video-conference. If customers require on-site service, the transport and travel expense shall be borne by customer;