Functions and applications:
HDT Vicat Test Machine is used to determine heating deflection and Vicat softening temperature of the plastic, rubber etc.
The vicat test machine is essential instrument for R&D institution, college, and QA department of enterprises. Moreover, the sample holders have function of up and down. But this machine cannot connect with computer.
Working standard:
Meet the standard requirements such as GB/T 1633、GB/T 8802、GB/T 1634、ISO 2507、ISO 75、ISO 306、ASTMD 1525,ASTMD 648and so on.
Product performance:
1)It adopts PC to control, displacement sensor to measure deformation and draw rear time curve;
2)Do the second treatment for test data on the PC directly and test data can be leaded in the OFFICE soft to edit and typeset;
3)The test frame is made of invar and its deformation is zero;
4) The tank is designed small and its cooling rate is rapid,which save test cost;
5) Configure full set of weights according to national standard and international standard.
6) Combining the tank with stir motor to control temperature uniformity;
7) The tank is installed with cooling water pipe, which speed up cooling rate;
8)The software developed by our company support Windows98/2000/X operation system. The system soft can be installed on the all PC to use and there is Chinese and English interface. The users can add, revise and delete test report according to their needs;
Standard Features
| | |
| --- | --- |
| Temperature range | Room temperature - 300°C |
| Heating rate | (120±10)°C/h (12±1°C/6min); (50±5)°C/h(5±0.5°C/6min) |
| Temperature error | 0.1°C |
| Temperature accuracy | ±0.5°C |
| Max. deflection error | ±0.001mm |
| Deflection measuring range | 0-1.5mm |
| Sample holder | 3 pieces |
| Load pole and pallet weight | 68g |
| Heating power | 4KM |
| Cooling method | >150°C, natural cooling; <150°C water cooling or natural cooling |
| Power: | Single phase, 220V, 50Hz |
| Dimension | 540mm×520mm×970mm |
| Design standard | ISO75 (E)/ ISO306 (E)/ ASTMD 648/ ASTM D 1525 |
Name

Specification

A

B

C

D

E

F

G

H

I

J

K

W

Weight (g)

1000

900

500

200

100

50

20

10

5

2

40

60(load stem)

Piece

12

3

3

6

3

3

6

3

3

6

3

3
Note :Users should provide cooling water and ventilation and smoke venting equipment.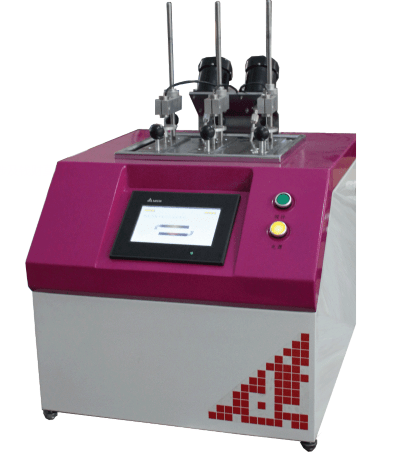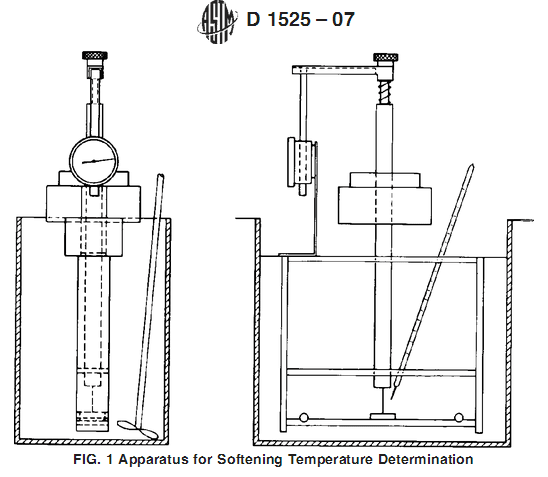 Related standards
About Film/Plastic Film Materials:

ASTM D882: Tensile Test
ASTM F1306: Puncture Test
ASTM D1938: Trouser Tear Test
ASTM D2732: Thermal Shrinkage Test
ASTM D1709, ISO 7765-1: Free-Falling Dart Method
ASTM D1894: Static and Kinetic Coefficients of Friction
ASTM D1424, ASTM D1922, ISO 1974: Elmendorf Tearing Strength Test


About Plastic& Plastic Pipe Materials:
ISO 180: Izod Impact Test
ISO 9966: Ring Stiffness Test
ISO 179: Charpy Impact Test
ISO 4892: Weathering Aging Test
ASTM D3163: Plastic Lap-Shear Test
ISO 4422, ISO 3127: Pipe Impact Test
ASTM D4565, ISO 11357, EN 728: DSC/OIT
ISO 75: Heat Deflection Temperature (HDT)
ASTM D1598: Hydrostatic Pressure and Burst Test
ISO 1133, ASTM D1238: Melt Flow Rate Test (MFR/MVR)
ASTM D790, ISO 178, ISO 14125, ASTM D6272: Bend Test
ISO 306, ASTM D1525: Vicat Softening Temperature (VST)
ASTM D882, ASTM D 638, ISO 527, ASTM D1708: Tensile Test


About Rubber Materials:
ASTM D412, ISO 37-2005, JIS K6251,DIN 53504-2009: Tensile Strength & Elongation Test
ASTM D1149-07, ASTM D1171-99, ISO 7326, ISO1431-1, DIN 53509-1: Ozone Aging Test
ASTM D624-00, ISO 34-1: Tearing strength Test
ASTM D395-03, ISO 815-1: Compression Set Test
ASTM D2240-05, ISO 7619-1, JIS K6253, ISO 868: Shore Hardness Type A/D
ASTM D573, ASTM D865, ISO188 Method B, DIN 53508 High/ Low Temperature Test
ISO 2781(Method A): Density Test
ASTM D5289-95/ ISO6502: No-Rotor Rheometer/Curemeter
ASTM D1646: Mooney Viscometer