UVA light tester


Product description:
UVA light tester simulates the UV part of the sun, UVA-340 lamp can best simulate the short wavelength of sunlight. UVA light tester is particularly useful for comparing the performance differences between different types of polymers and stabilizers
The main technical parameters:
The surface of the specimen from the lights from the nearest parallel to the surface: about 50mm
Wavelength range: UV-A wavelength range of 315 ~ 400nm
Within the radiation intensity 1W/m2/340nm
Temperature Resolution: 0.1 ℃
Light Temperature range: 50 ℃~ 70 ℃/ temperature tolerance of ± 3 ℃
Condensing temperature range: 40 ℃~ 60 ℃/ temperature tolerance of ± 3 ℃
Blackboard thermometer measuring range: 30 ~ 80 ℃/ tolerance of ± 1 ℃
Temperature control: PID self-tuning temperature control mode
Humidity range: about 45% ~ 70% R.H
Sink requirements: water depth less than 50mm, and a water supply automatic controller
Standard Specimen size: 75 × 150mm 48pcs
Recommended instrument environment: 5 ~ 35 ℃, 40% ~ 85% R • H, 300mm from the wall
Voltage: 220V ± 5%, single-phase three-wire, 50Hz, 10A, 15A GFCI requirements
UV provides two methods of wet simulation. The most widely used method is condensation, which is the best way to simulate outdoor wet erosion. All UV models can run the condensation cycle. Because some application conditions also require the use of water spray to achieve practical results, so some UV models can run the condensation cycle can run the water spray cycle
Control System:
Adopts black aluminum plate to connect temperature sensor and adopts black board temperature meter to control heating so as to ensure more stable temperature.
The radiometer probe is fixed so as to avoid the frequent installation and disassembly.
The radiation quantity adopts the special UV irradiatometer with high-precision display and measurement.
The radiation intensity is not more than 50W/m2.
The illumination and condensation can be controlled independently or alternating and circularly.
Test Specimen Mounting:
The standard test specimen holder accommodates 2 panels 75×150mm. The test panels are actual the side wall of the chamber. To properly seal the chamber, it is important to have every panel holder filled with specimens or blank panels and to have panel holders in place.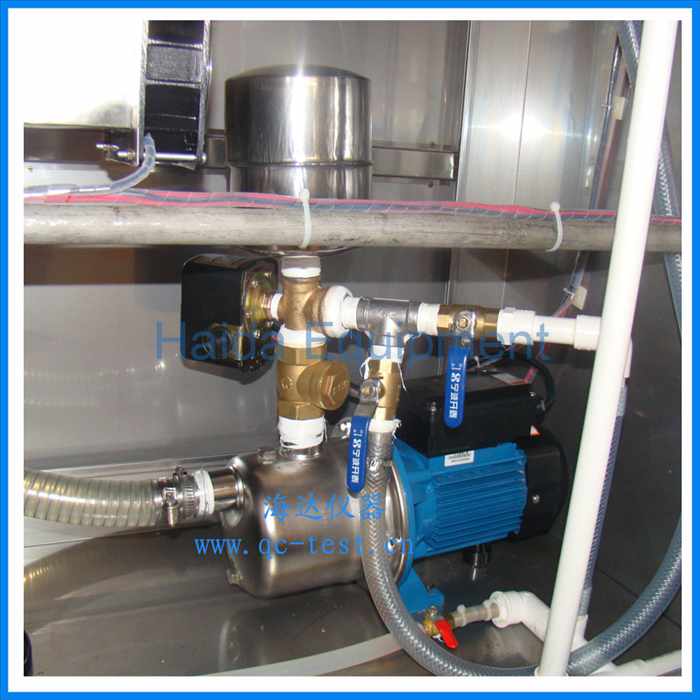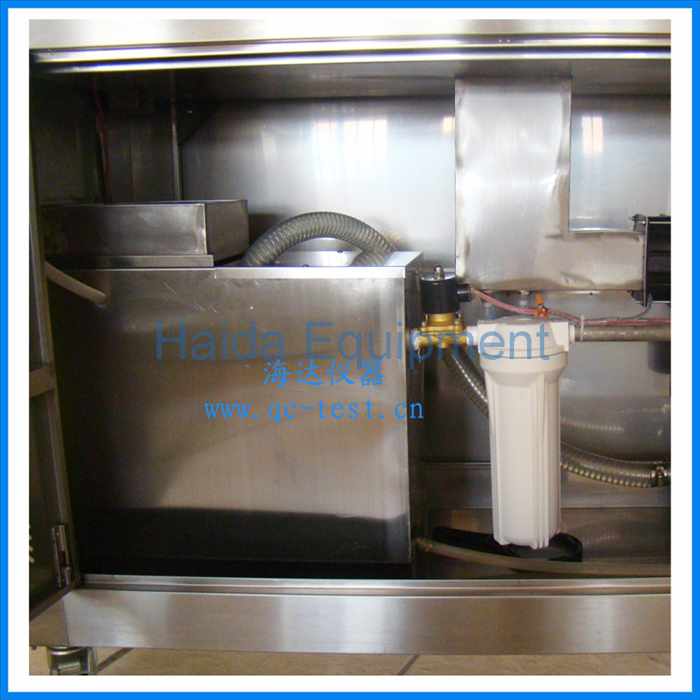 Our company
Introduction:
HAIDA INTERNATIONAL is a professional manufacturer of various kinds of testing equipments over 24 years. HAIDA products are widely used in paper products, packaging, ink printing, adhesive tapes, bags, footwear, leather products, environment, toys, baby products, hardware, electronic products, plastic products, rubber products and other industries, and applicable to all scientific research units, quality inspection institutions and academic fields.
company
After-service
If you face any problems in future during testing process we promise we will give you a reply within 48 hours and solution provide within 3 working days. We can offer operation video and English operation manual. We can provide video-conference. If customers require on-site service, the transport and travel expense shall be borne by customer;