water spray test chamber video
1. Product introduction:
Water-resistance test chamber used to test anti-rain and water-proof performance for products, the products such as steam locomotive lamps, wiper performance, waterproof bands, motorcycle instruments, defense industry, navigation systems, missiles, radar cone top, aerospace industry etc.
2.Applicable industries:
Water-resistance test chamber applied to plastics, rubber, paint, coatings, printing ink, paper, pharmaceuticals, food, cosmetics, textiles, auto parts, packaging materials, building materials, electricity and the electrical products; it provide an important testing data for scientific research, product development and quality control
3.Classify
1.Swing pipe specification:R800mm、R1000mm Total 2,2 roots(Can matching the R600mm、R1200mm、R1400mm、R1600mm swing pipe according the practical conditions);
2.Swing pipe:stainless steel,Swing pipe inner diameter:Φ15mm;
3.Water orifice:¢0.4MM,Two hole spacing:50mm;
4.Stainless steel water orifice, for convenience detach replacement. Embedded set-piece, convenient adjustment water spray Angle;
5.Gush water mouth Angle:1200(IPX3)、1800(IPX4)Use stainless steel article file manual adjustment;
6..Swing pipe angle:1200(IPX3)、1800、Approximate 3600 manual adjustment
4.Standard configuration:
Specimen's holder:φ600-800mm, height: 20cm(distance with bottom of chamber
Material: SUS#304stainless steel, swing pipe shelf is aluminium alloy sections. PLC(programmable logic controller) + touch screen, wing pip's device
Electrical machine: "SANYO DENK"(Japan) servomotor, the angle of swing pipe is precision.
Turntable electrical machine: "SIG MA"(Taiwan) with high torque, low-noise& rotate speed stability
Control system: "MLTSUBLSHI" (Japan) PLC(programmable logic controller)
CONTROLLER: Mitsubishi(Japan) programmable controller
Screen: "WELNVLEW" (Taiwan) touch screen, provide the visual operation interface
Booster water pump: "CNP" booster pump
It has flow-meter, hydraulic gage, the precision is 0.2
5.Parameters:
| | |
| --- | --- |
| model | HD-E712 |
| Studio size | (D×W×H)80 ×130 ×100cm |
| Swing pipe diameter | 0.4m, 0.6m, 0.8m, 1.0m (according to the size of the measured object to select the swing pipe size) |
| Pendulum tube angle | 60 degrees 、vertical ± 90 and 180 degrees |
| Orifice | The removable design, pinhole 0.4mm, specially designed nozzle, spray rain rain water pressure 50-150kpa |
| Testing temperature | Room temperature |
| Specimen rotative speed | 1-3r/min (Adjustable) |
| Power | 1 phase, 220V, 5KW |
| Weight | approx.350kg |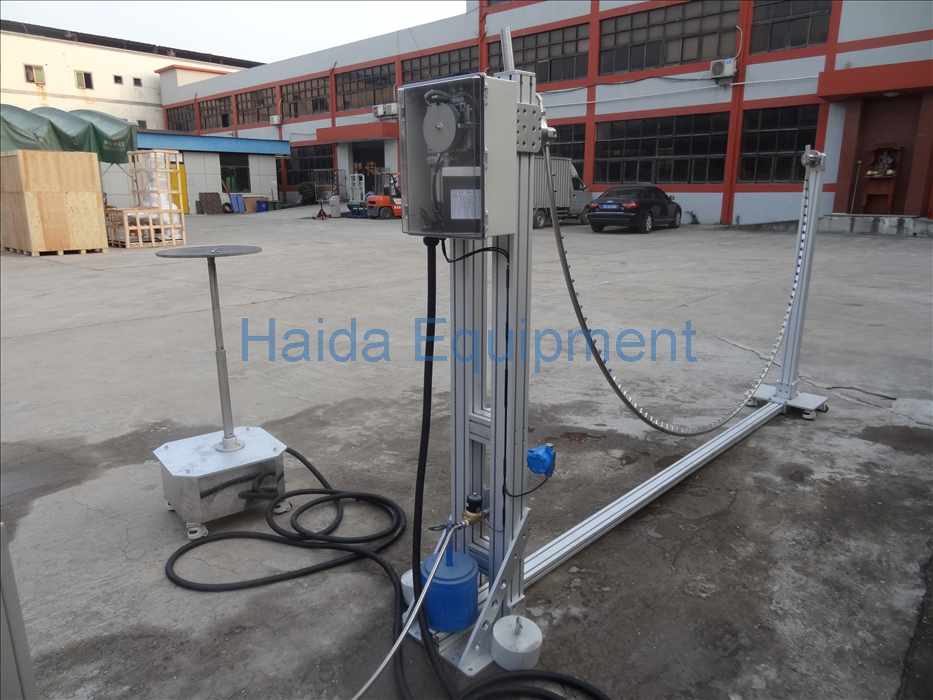 Our company
Introduction:
HAIDA INTERNATIONAL is a professional manufacturer of various kinds of testing equipments over 24 years. HAIDA products are widely used in paper products, packaging, ink printing, adhesive tapes, bags, footwear, leather products, environment, toys, baby products, hardware, electronic products, plastic products, rubber products and other industries, and applicable to all scientific research units, quality inspection institutions and academic fields.