Xenon Arc test chamber


The usage
Xenon Arc test chamber mainly for the test of non-ferrous/organic/rubber/plastic and building materials
Type of Xenon Arc test chamber can be used for the selection of new materials, improvement of existing materials or evaluate material composition change after the change of the durability test, this test chamber can be a good simulation under different environmental conditions, materials exposed to changes in the sun.
The certification
ISO 9001:2000; ISO 9001:2008; QS-9000; ISO 14001:2004; CE, SGS, SMC, CMC, CPA, CE,CMA,IMC
Specifications:
Model

HD-E711

Inner Box Size (DWH)

950950900mm

Outside Dimension (DWH)

130015001900mm

Humiture Range

(RT+10)~70C; 30~98%RH

Humiture uniformity

2C; 3%RH

Rainfall time

1~9999min, adjustable

Rainfall cycle

1~240min, interval is adjustable

Xenon lamp light

xenon long-arc lamp, 6KW10%, 290-800nm, 1000W/m2200

Heating/humidifying power

2.0KW/2.0KW

Sample spinning machine speed

1~5r/ min (adjustable)

Sample and xenon lamp distance

300~375mm

Box material

Stainless Steel SUS304#

Insulation materials

Superfine heat insulation cotton

Insulation body

Superfine glass fabric

Circulation system

Single cycle, centrifugal fan

Control system

Germany KLOCKNER-MOELLER progammable controler

Gas processing

dischager for fector and harmful gas

Power

AC380V, three phase five wire, 10KW

Use environment

5C~+30C, 85%R.H

Standard features

1. Filtering screen viewing window; 2.Moistureproof lamp

Security Protection

Security device for circuit break,

high pressure of the compressure, high temperature alarm
The images of this machine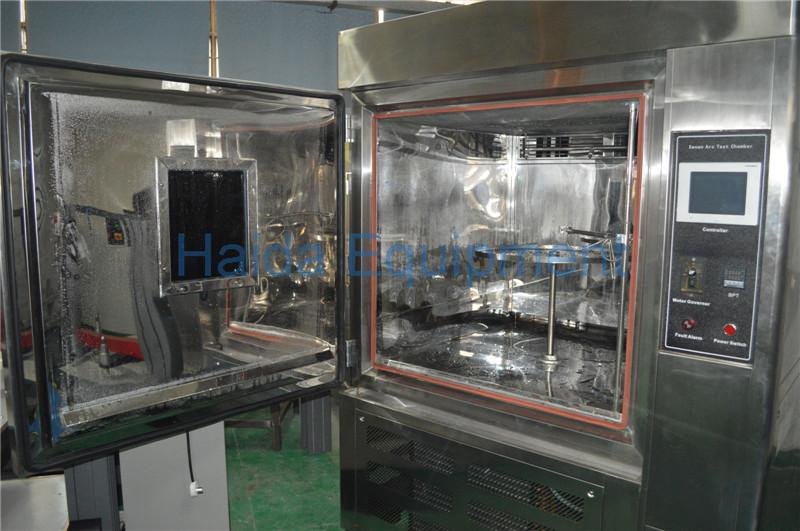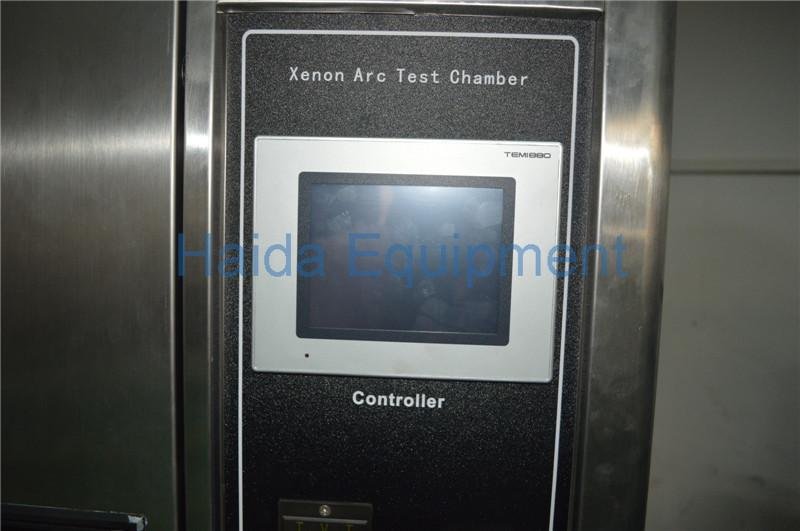 The introduction of Haida
Haida products are widely used in paper products, packaging, ink printing, adhesive tapes, bags, footwear, leather products, environment, toys, baby products, hardware, electronic products, plastic products, rubber products and other industries, and are applicable to all scientific research units, quality inspection institutions and academic fields. Our products meet UL, ASTM, JIS, GB,SO, TAPPI, EN, DIN, BS and other domestic and international standards.