HD-E708 RAPID-RATE THERMAL CYCLE CHAMBER
EQUIPMENT DETAILS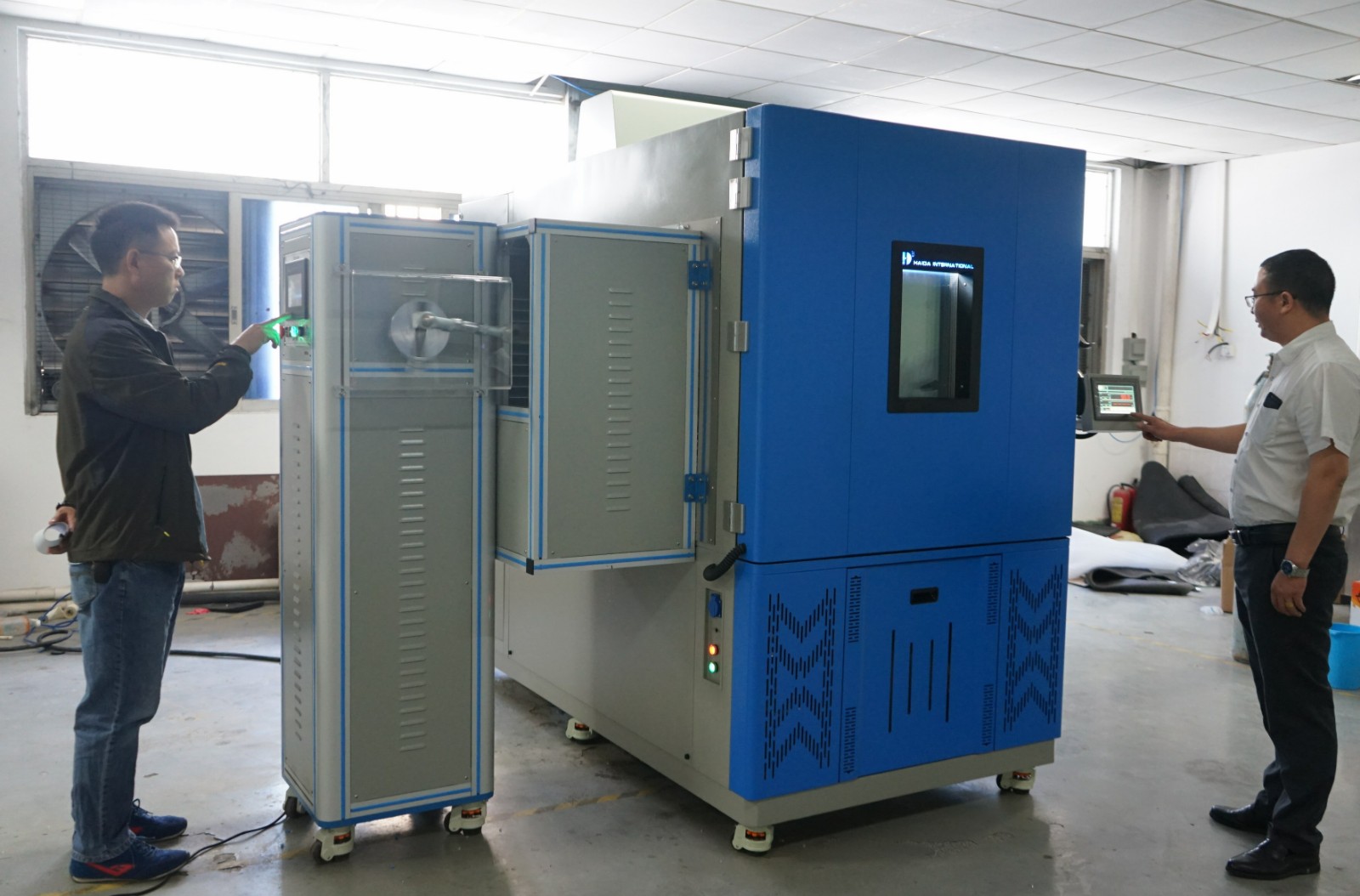 TEST STANDARD
IEC60068-2-14 Change of temperature with specified rate of change
INTRODUCTION
This chamber is ideally suited for specimen test requiring quick changes of temperature. It can evaluate the failure of thermal mechanical properties of product. Normally the temperature rate is less than 20C/min, which can achieve the real application environment of testing sample by the fast ramp rate.
STANDARD FEATURES FOR CHAMBER
Item

Specification

Internal dimension(W*D*H)

400*500*500mm

External dimension(W*D*H)

600*1080*1380mm

Working capacity

100 liter

Internal chamber material

SUS#304 stainless steel, mirror finished

External chamber material

Stainless steel with paint spray

Temperature range

-70℃~+180℃

Temperature fluctuation

±1C

Humidity range

10%~98%RH

Humidity fluctuation

±2.5%RH

Humidity uniformity

3%RH

Sample tray

SUS#304 stainless steel, 2pcs

Observation window

Tempered glass: 250*300mm

Testing hole

Diameter 50mm, for cable routing

Power supply source

Three-phase, 380V, 50Hz

Safety protection device

Protection for leakage

Over-temperature

Compressor over-voltage and overload

Heater short circuit
TEMPERATURE RAMP SYSTEM(HEATING & COOLING)
Model

HD-E708-100

Cooling speed (+85℃~-40℃)

15℃/min, linear line or non-linear control (without loading)

Heating speed (-40℃~+85℃)

15℃/min, linear line or non-linear control (without loading)

Refrigeration Unit

System

Air-cooled

Compressor

France Tecumseh

Expansion system

Electronic expansion valve

Refrigerant

R404A, R23
APPLICATIONS
1. To simulate test environment with different temperature and humidity
2. Cyclic test includes climatic conditions: holding test, cooling-off test, heating-up test, and drying test…
CHAMBER DESIGN FEATURES
1. Has cable ports are provided on the left side to allow easy wiring of specimens for measurement or voltage application;
2. The door equipped with hinges preventing auto-closing;
3. Can designed to comply with major environmental test standards like IEC, JEDEC, SAE...
4. This chamber is safety tested with CE certificate.
PROGRAMMABLE CONTROLLER
1. Adopts Japan UMC100 programmable touch screen controller for easy and stable operation
2. Step types include: ramp, soak, jump, auto-start, and end