Large Capacity Hot Air Drying Chamber
Application:
Hot Air Drying Chamber is suitable for electronic, petroleum, mining, medicine, machinery manufacturing, etc. Products of drum wind drying and heat treatment. This series product is safe, energy saving, thermal insulation performance is good, the drying oven temperature uniformity is good, simple installation, convenient maintenance, etc.
Specifications
Large Capacity Hot Air Drying Chamber
1. Stainless steel material
2. High temperature
3. High precision
4. ISO, SGS, CE
Hot Air Drying Chamber Structure:
1.1 Hot Air Drying Chamber adopts monolithic, thermal insulation layer is made of high quality mineral wool, shell, hot air circulation device, electric control cabinet on the right side of the oven is convenient for operation, drying cabinet equipped with new air in and out of port, the cabinet ventilation duct and hot air circulation fan, drying the casing.
1.2 Case material: body skeleton adopts 40 x 40 mm Angle steel welded together, enclosure wall material is 0.8 mm thick stainless steel plate; Wind layer is made of thick 1 (SPCC) cold rolling steel plate, the outer wall material is 1 mm cold rolled high carbon steel, body surface coating light gray paint.
1.3 Thermal insulation material: high quality mineral wool, the thickness of the insulation layer design requirements to ensure that the oven in the rated operating temperature range, casing outer wall temperature at room temperature + 25 °C or less; > 100 mm insulation layer thickness of insulating layer at the bottom of the oven about 80 mm.
1.4 Door sealing strip:High temperature resistant asbestos rope seal
1.5 The door is:Design to open the door and the door is manual flat open, the door is steel structure steel and precision of high qualified steel plate assembly welding and into.
1.6 The door is sealed:USES the manual of the rod handle and the door is the soft edge sealing device, pressure can make the door and enclosure, make sure remain the state of closed box in the process of production, to eliminate the hot gases to escape, improved working environment, guarantee the box temperature uniformity and enhance energy saving effect.
1.7 The wind but I:Wind but made of 0.8 mm thick stainless steel plate surface blunt D13 holes, is used to control the air flow, to improve the drying oven temperature uniformity.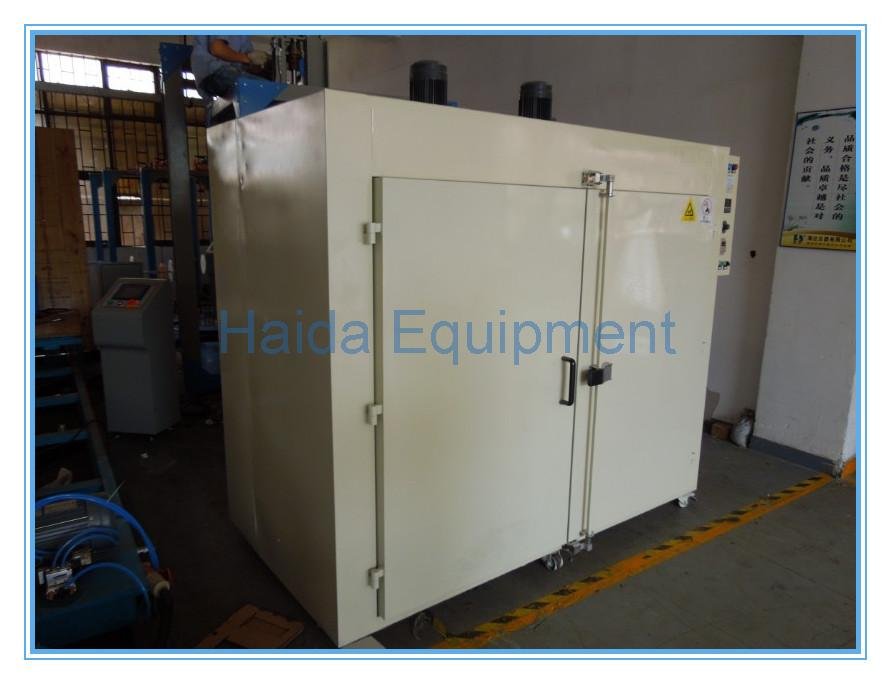 Product Main specifications:
Equipment model

HD - 708

Hot Air Drying Chamber

Drying oven work size

Deep 960 (L) x width1760 (W) x 1420 mm (H)

Drying oven outside diameter size

Deep 1200 (L) x width 2200(W) x 1860 mm (H)

The rated power

Three phase four wire, 380 v, 50 hz

The highest working temperature

300°C

Using the temperature

Room temperature + 10 ~ 300 °C can be arbitrarily set

Heating zones

1 zone

Heating element connection

Y

Heating power

24 kw

The temperature control mode

Using digital intelligent microcomputer PLD temperature control system.

Temperature control precision

±1°C

Outer furnace wall temperature

Temperature 35 °C or less

Drying oven door way

Manually turn

Hot air circulation fan

370 w x 1