Universal Test Machine With Computer & Software
---

Universal Testing Machine Video

Universal Testing Machine Brochure
This type universal testing machine have a strong power (10T max force and 2T, 5T are optional).10T test capacity universal test machine is particularly design to use for metal,steel,plastic pipe, etc with specialized sensors and fixtures. The data will be displayed on the computer so that the force values change during the test.

1. Tested sample: laminated materials, wood, leather, rubber & plastic, metal material, etc.
2. Different test with different grips: tensile, peel, tear, heat seal, adhesive, bend and open force.
3. Deformation under defined load: Test deformation under defined load of tested sample
4. Load under defined deformation: Test load under defined deformation of tested sample
5. Universal test software can issue word/excel report with results for max. force, elongation, tensile strength, peel strength, tear strength, compression strength, etc.
Item

Description

Frame capacity

10T

Load cell brand

USA brand transcell load cell for high accuracy

10T (2T, 5T are optional)

Load accuracy

0.5% F.S

Control system

PC with windows 7 system

Motor

Panasonic servo motor w/AC variable speed drive system, high-precision mechanical ball screw rod

Force reading

kgf, Ibf, N, KN, T etc

Vertical test space

1100mm including fixture

Horizontal test space

≤400mm

Test speed

0.1~300mm/min (adjustable)

Software

TM 2101

Curves display

Load- elongation, Elongation-time, Time-elongation, Stress-strain

Data display

Max. force, speed, sample information, strength(Kpa, Mpa, N/mm, N/mm2) etc…

Safety features

E-Stop

Over-load protection

Upper and lower limit switches

Load sensor with automatic retreat
TM 2101 intelligent automatic detection of the operating system, (can adapt to all current PC)

High-tech, low noise

Humanized industrial design, easy to place and transport

The world famous brand core precision components

Security protection system

Valid test trip length (modifiable)
The TM2101 software is designed purposely for computer controlled electronic universal testing machine, used for tension, compress, bend, shear, tearing andpeel test. With the personal computer and interface plate, it could collect, save, process and print test result. Further it can calculate multiple parameters, i.e. maximum force, yield strength, average peel force maximum deformation, yielding point and elastic modulus; this universal test equipment system is featured in curve process, multi-sensor support, image interface, flexible data process and powerful system function.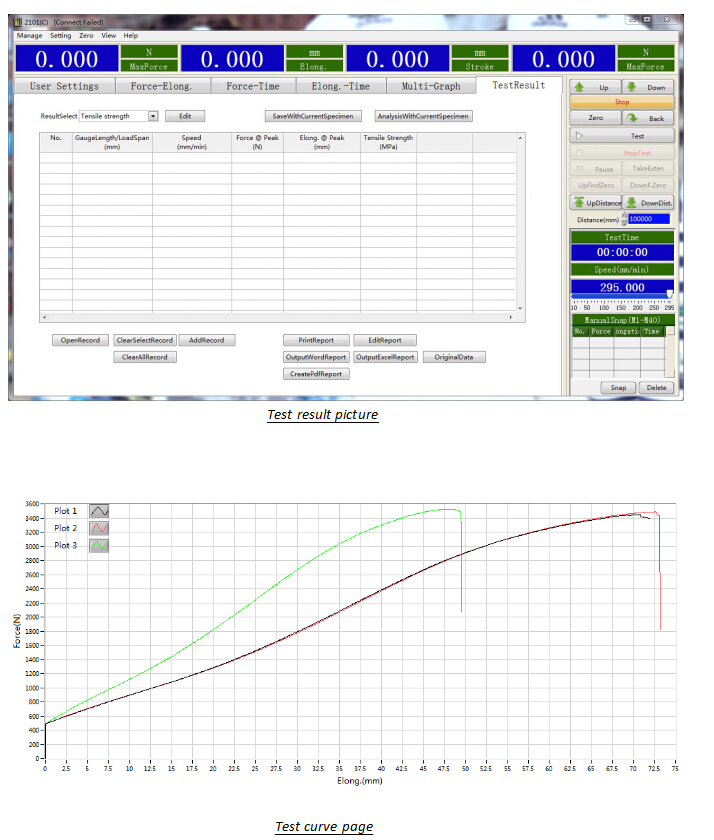 Machine Clamp: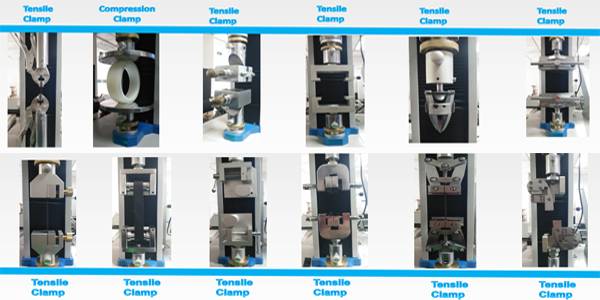 Cooperative Partner: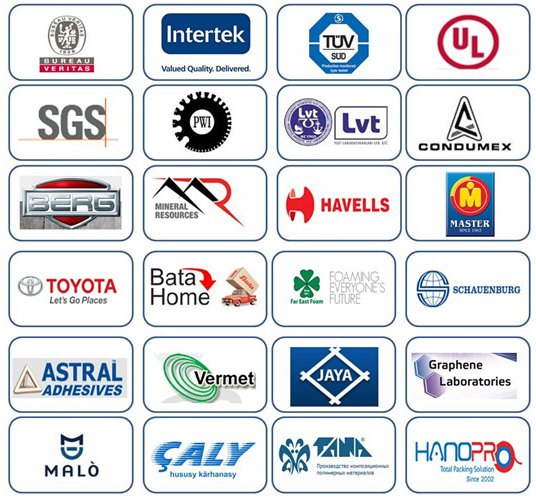 1. The guarantee period with FOC within 1 year (not including expendable parts cost and transport & travel fees)
1.1 During the guarantee period, Haida shall supply free maintenance or replacement for the damaged part (just for non-expendable part) caused by non-human reasons;
1.2 If any quality problems occur within the guarantee period, and Haida must provide on-site service, the transport and travel expense shall be borne by buyer;
1.3 If any big quality problems occurs out of the guarantee period, Haida will provide a maintain service, the transport and travel expense shall be borne by buyer, also charge for a favorable price for new parts;
1.4 Haida will provide a lifetime favorable price to the buyer for expendable & non-expendable parts used in system operation, equipment maintenance;
2.1 Natural disaster
2.2 Operating mistakes
2.3 Voltage is not fit for our manual
2.4 Uninstall without our guides
2.5 Damaged for borrowing to others
2.6 Damaged for without authorized machine modification
2.7 Damaged for without authorized calibration
2.8 Without authorized transshipment mistake
3.1 Vibration, rocking place.
3.2 Direct sunlight.
3.3 Hot, dusty, damp places.
3.4 To ensure safe, AC supply of the machine should be well grounded.
3.5 Do not use strong solvents (such as: benzene, nitro oil) washing machine.
3.6 Do not inject water and debris into the machine to prevent damage to electrical components and electrical shock.
3.7 Machine's disassembly and debugging can only be measured by the State Department approved the units and the company, other people not allowed to overhaul.