UV aging test chamber details informations
---

UV aging test chamber is one of the most common testing equipment to detect the fatigue degree of product quality.When this equipment is needed, it indicates that the product will be used for a long time in the sun or in a strong UV-line environment.Uv Aging test can detect the product's aging degree。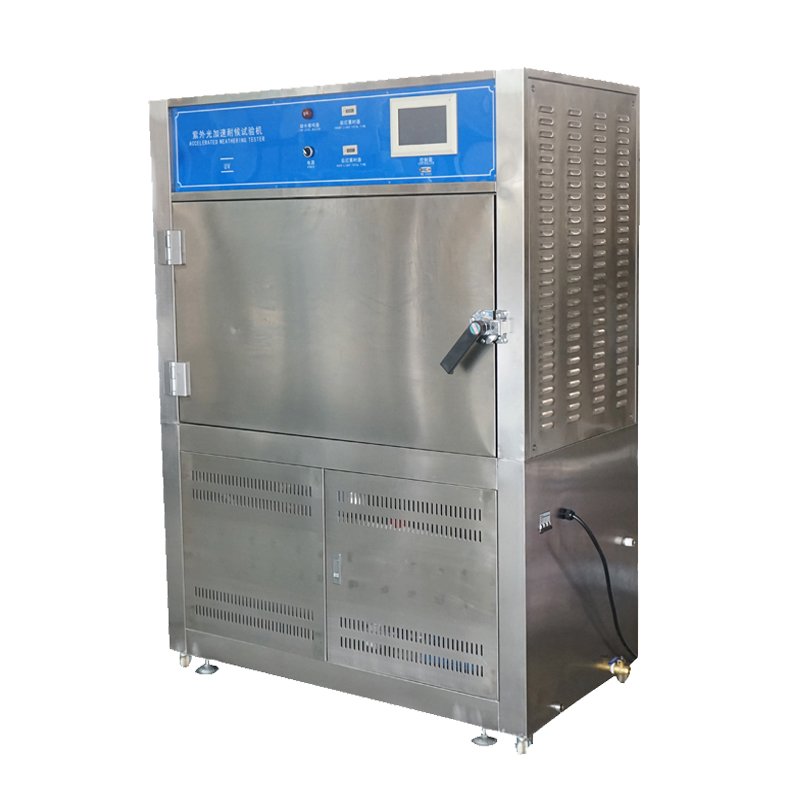 UV aging test chamber specific features!
UV aging test chamber allows products under the influence of fluorescent uv light, can show the effect of light, the measurement of the whole, can control the temperature, the standard test should be in the 100% dark condensation of the temperature under the ultraviolet light exposure to humidity.

UV aging test chamber features:
1. UV aging chamber simulate humidity environment
In a lot of outdoor environment, the material in dry time can reach 8 hours. Studies have shown that the main factor causing outdoor humidity is not the storm. Uv aging test chamber can simulate outdoor erosion through a unique functional area.
2. UV aging chamber simulate sunlight
UV rays in the sun are the main factors that lead to the destruction of many materials. And we use UV ultraviolet radiation to simulate a short distance of ultraviolet rays, visible light and ultraviolet energy generated by the size. You can test your product's different requirements according to different ultraviolet rays. Since the total radiation length differs from the energy, usually ultraviolet rays can differentiate between UVB and UVA.
How to choose the correct UV aging testing machine

This simple point to buy a few points of UV aging testing machine.
1. Test control system: Compared with the traditional control system, intelligent control system can accurately control the number of tests, time, temperature, humidity, UV intensity. The most important thing is that the intelligent control system can reduce the artificial error and save the cost.
2. Protective devices.:Protection device is to better protect the UV aging chamber service life. In particular, UV aging test in the testing process of water shortage protection, power protection, over-temperature protection.
3. Technical support: Equipment upgrades, product replacement and other situations require technical personnel skilled. The manufacturer of UV aging chamber is most familiar with the characteristics of the equipment.
Haida equipment is an environmental test chamber manufacturing industry with more than 10 years of experience. To provide the best quality UV aging Test chamber, the most professional services, support the global after-sale technology call service
Standard Features:
Item: Specification
Chamber dimension (W*D*H): 1300*500*1460mm
Chamber material: SUS#304 stainless steel
Temperature range: RT to 70℃
Temperature fluctuation: ≤±1.0℃
Temperature uniformity: 3℃
Humidity range: ≥75%RH
Controller: Programmable controller, LCD touch screen
Control mode: Balance temperature humidity control (BTHC)
Test cycle setting: Exposure, condensation and water spray test cycle is programmable
Water spray cycle: Spray 18mins in every 120mins / spray 12mins in every 60mins
Water usage: 8L/day
Distance from sample to lamp: 55±2mm
Centre distance between lamps: 65~70mm
Irradiance range: 0.45~0.90W/m2
UV lamps: Imported Atlas UV-A: 315-400nm (8pcs, 1600h lifetime)
Lamp power: 40W/Piece
Specimen Size: 75×290mm (24pcs) / 75x150mm (48pcs), maximum thickness 5mm
Testing time: 0~999H, adjustable
Protection system: Overload short circuit protection
Over temperature protection
Water lacking protection
Earth leakage protection
Auto shut off protection